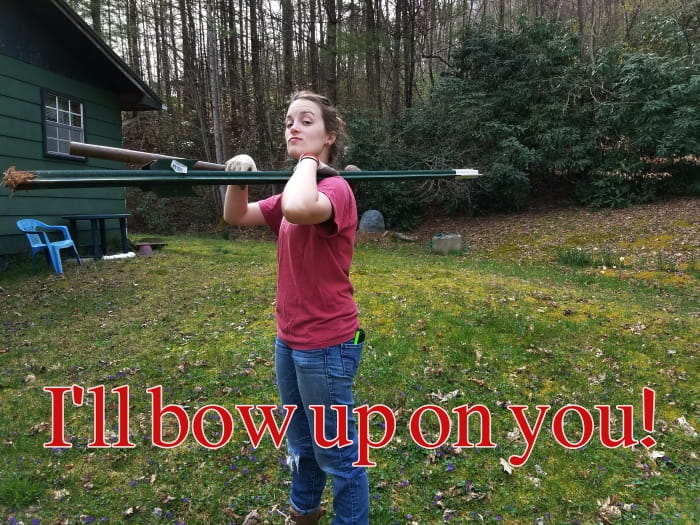 bow up verb phrase
1 Same as bow out.
1956 Hall Coll. Big Bend NC Aunt Martha Packett brought Oliver into the world. He was crooked as a fish hook. He was so bowed up in this back. (Letha Hicks)
2 To shape up, improve one's behavior.
1939 Farr Tenn Mt Regions 89 Mose will have to bow up if he improves his job.
3 To turn mean, refuse to work.
1994 Weals Coll. He just bowed up and jowered at me. (Reported from Pete Monroe, c1948) 1995 Montgomery Coll. (Cardwell); = to get angry, as "He bows up when he catches kids in his watermelon patch" (Shields).
—Dictionary of Smoky Mountain English
---
The only way I've heard the phrase bow out used is in regard to someone removing themselves from a situation.
Bow up is beyond common in my area of Appalachia, although I've never heard it used as indicated in number 2 in the dictionary entry.
The way I've most often heard the phrase used, is to mean someone came to an abrupt stop in front of you, example: "If he hadn't of bowed up in the middle of the road I wouldn't have never hit him!"
I've also heard bow up used as indicated in number 3 of the dictionary entry. Example: "Once they made her mad she just bowed up and wouldn't talk for the rest of the time we were there."
I think most everyone is familiar with the usage Letha Hicks described in the entry: being bowed up, meaning to be physically in pain or suffering from bone and muscle issues.
Is bow up a phrase you're familiar with? How about bow out?
Tipper
Subscribe for FREE and get a daily dose of Appalachia in your inbox