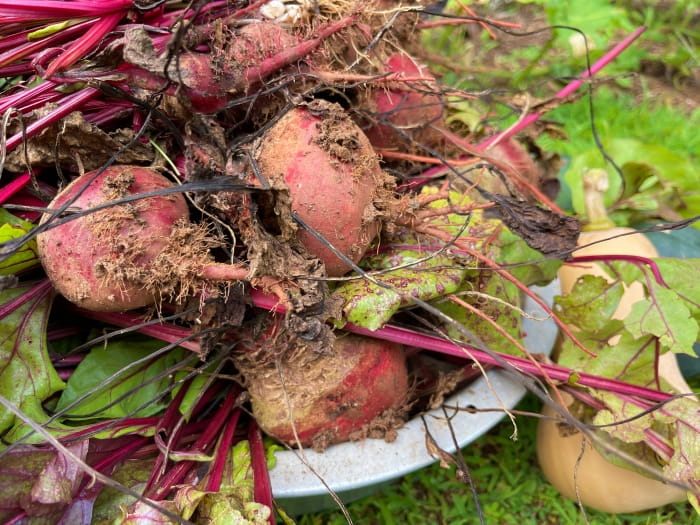 Our summer garden is winding down. We're still getting okra, a few tomatoes, peppers, ground cherries, peas, and green beans. I'm tickled pink about the way our winter squash did this year, so there's still a lot of those to harvest.
I'm hoping to plant a fall garden this month, but I'll have to wait for it to dry up first.
We always plant kale in our fall garden and generally have good luck with it overwintering for us. Radishes and lettuce are also on the fall garden list.
My turnips didn't do no good at all last fall so I'm anxious to have a good harvest of them this year. I believe I'll start a few green beans just to see how they do. I've never planted them in the fall before, but I recently read about someone who lives a little north of me and they have good success with beans in their fall garden.
Our cabbage did so well growing under the small hoops that I hope to plant some cabbage too, but that will depend on if I can find any to purchase locally. I started the ones we grew this summer from seed, but my greenhouse is way too hot for seed germination at this time of the year and there just isn't enough sunlight coming in my house windows to start them inside. I've been wondering if direct sowing cabbage would work. If you have any experience direct sowing cabbage please share your knowledge with me.
Here's my favorite planting by the sign days for September.
Taurus: good for all root crops and above ground crops 23, 24
Cancer: best for planting above ground and root crops 1, 2, 28, 29
Scorpio: best for flowers and above ground crops 10, 11
Pisces: good for planting and transplanting above ground crops, trees and shrubbery 18, 19
Best fermenting days for September (when the signs are in the head).
---
Tipper
Subscribe for FREE and get a daily dose of Appalachia in your inbox