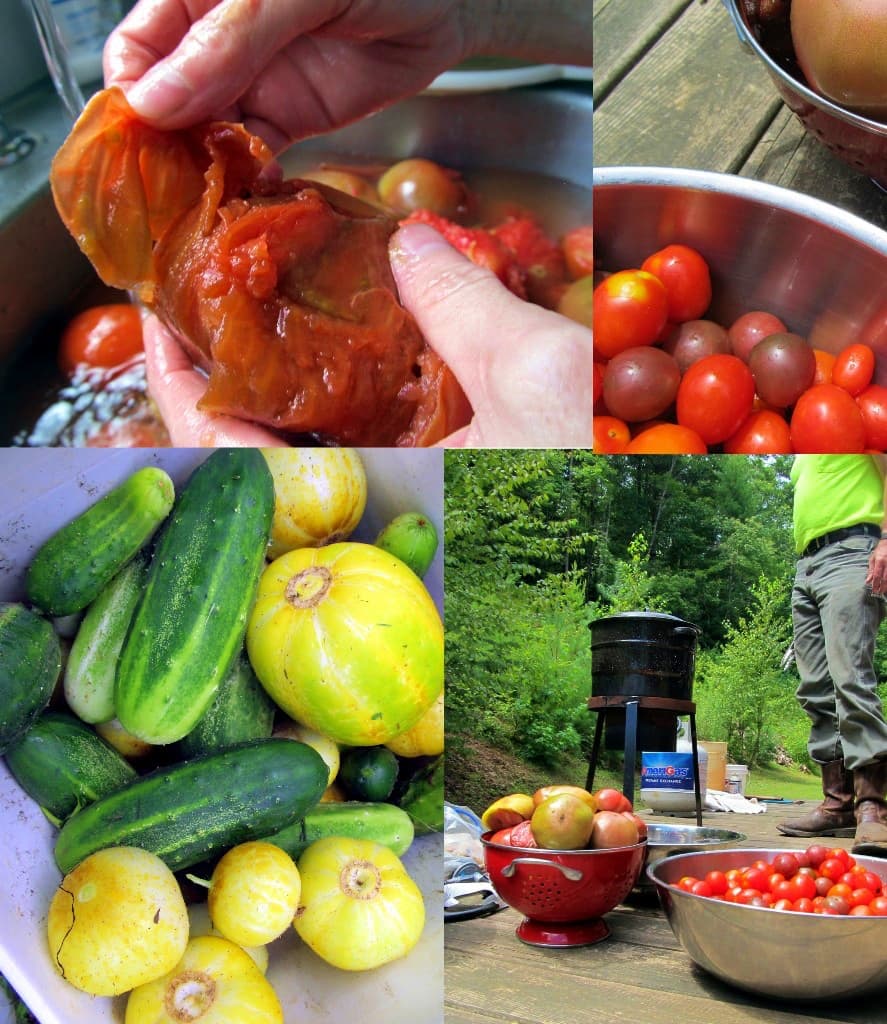 "Yeah, we had a big farm up there. Oh, it's so pretty, big bottom after you get up there. Some places on the mountain's really pretty; after you get up there, it's level, you know. Big fields, wheat fields, corn fields, fields of taters, and all kinds of vegetables. That's the way they made their living. Had hogs, chickens, cows, raised their own meat, raised their own bread; thrashers would come every fall and thrash four, five and six stacks of hay or wheat to make flour. Took their own wheat to the mill, had flour mills, ground the flour; about as good a pure bread as you ever ate, from your own wheat you raised. People don't raise it no more down here. A lot of them raise a little corn, but not everything like they used to. Had all their stuff made at home, didn't have to go out to buy very much. Had to buy soda and salt to put in your bread, had your own buttermilk."
(Lilly Wykle)
"Small farming has gone by the wayside with the changes in times and large conglomerates of agricultural products. The young people have moved away from the land. Very few still live there because you can't make a living there anymore and they're not satisfied with the lifestyle that's accompanied by that type of life. When I grew up, and this may sound a little austere, but we raised most everything that we ate. We came to Boone just on occasion, and Grandpa would buy 400 to 500 pounds of flour and 100 pounds of salt, a couple hundred pounds of sugar for canning, and some coffee; and that was about the extent of our shopping. We didn't come to Boone more than twice a year generally speaking, even though it was only fifteen miles from our house."
(Charles Michael)
Excerpts from "Mountain Voices" by Warren Moore
---
The book "Mountain Voices" was published in 1988—the year I graduated from high school. Many things have changed since then.
Growing up in a family who always made a garden and hunted game to put up for winter eating lead me to follow the same path once I was married. Having the garden loom large in my life caused me to pay attention to others who attempt to raise at least part of the food that nourishes their family as well as to those that don't give it a second thought and rely on grocery stores and the like.
Of course there's many reasons folks don't try to raise the food they eat. A few obvious ones that come to mind: they don't have the necessary skills, they don't have a good set up for growing food, harvesting game, or raising animals, they have health issues that limit their mobility, and the ease at which food can be procured from stores leaves folks wondering why they should exert themselves for something so readily available.
Since I started blogging back in 2008 I've noticed a resurgence in the desire to raise at least part of one's food supply. A quick search for homesteading will turn up folks who not only have altered their lifestyle to ensure a more self-sufficient life, but are actually encouraging others to join their ranks.
I noticed the movement to grow your own food increase gradually from year to year until 2020. The pandemic supercharged people into realizing they need to garner the gardening knowledge that still exists in their family lines and put their hands in the good soil to gain the skills they need to provide food for their loved ones.
I believe the current back to the land movement is a good thing. There is a real joy in raising food to feed your family, friends, and neighbors. Not to mention the health benefits of eating real food and gaining much needed exercise by tending the growing plants and animals.
If you're someone who would like to try your hand at growing vegetables but are intimidated by the process I'm encouraging you to jump into the dirt with both feet. There's tons of information online for beginning gardeners to peruse, and the Good Lord gave us a real advantage. He designed plants to want to grow. Whether you're planting a seed or a growing plant, its one purpose is to grow, produce, and propagate its next generation.
Last night's video: Early Spring in the Appalachian Mountains | My Life in Appalachia 20.
Tipper
Subscribe for FREE and get a daily dose of Appalachia in your inbox