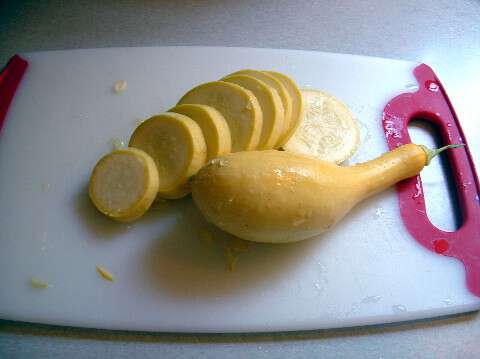 The typical way to cook squash in Appalachia-is fried. The actual procedure of frying is varied from cook to cook. Granny cuts her squash in circles-rolls it in cornmeal-and fries it in vegetable oil. She stirs it around in the pan and it becomes more of a scramble than individual fried pieces of squash.
The Deer Hunter and I fry our squash slightly different. We cut the squash in length wise pieces, dip it into a milk-egg-salt-pepper wash, roll the squash in a cornmeal-flour-salt-pepper mix, and finally-fry it in either olive oil or vegetable oil.
Our method takes longer than Granny's-but the pieces stay intact-and retain more of a squash flavor. One of the Foxfire Books details frying squash-the little lady interviewed in the book, fried her squash in larger pieces like we do-but since it took more time to stand over the pan and turn each individual piece of squash-she told her children she'd fry one pan of squash-but if they wanted more they'd have to fry the next pan.
After getting a few tips from Matthew Burns, I fried a few squash blossoms. They tasted good-with a delicate squash flavor-but I probably won't be making them again. They did look very pretty-might be nice for a special meal.
Growing up-I never knew you could eat squash any other way than fried. As an adult I've discovered I like squash boiled-steamed-stuffed-grilled-and perhaps my favorite roasted. We dice up squash, zucchini, and onion-toss it with olive oil, sprinkle oregano-salt-pepper, and roast it in the oven (450) for about 7 minutes-YUMMY.
Did you grow up eating Granny's version of 'scrambled fried squash' like I did? If you've ever been to a summer time church gathering in the south-I'm sure you've seen it on the table.
Tipper