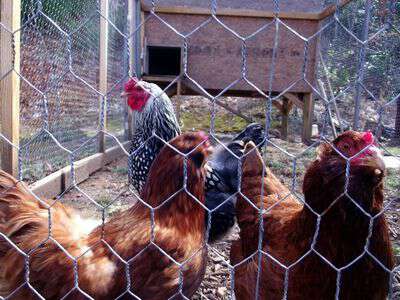 It was back in October when I last updated you about our little chicken flock-if you missed that post you can click here to read it.
The gist of my last update-we had 3 hens: Gertrude, Polly, and Nesta; along with 2 roosters: Rex and Mr. Missy. By the end of that post I explained Mr. Missy was so mean he left the house one morning before daylight headed for Junaluska in the back of a truck.
Once Mr. Missy arrived in Junaluska he was free to roam around a little bit more than he was in his old abode, but it didn't sweeten him up any. He continued to be mean to his new master as well. However, Mr. Missy met his maker when he tried his tricks on a Bobcat.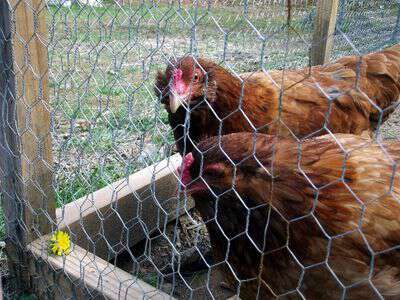 After Mr. Missy left we were very happy with our 3 hens-Gertrude, Polly, and Nesta; and one rooster-Rex. Until Rex started being abusive. He wasn't mean to us nor to sisters Gertrude and Polly.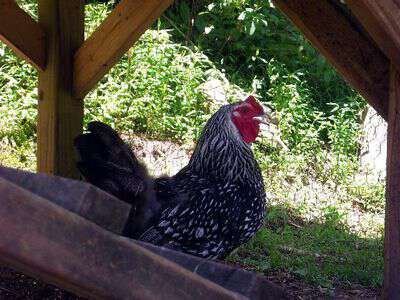 Rex singled out Nesta. The Deer Hunter said Nesta was just Rex's favorite chick-and we were getting bent out of shape over nothing. But me and the girls put all 6 of our feet down and said "Rex has to leave!!!"
So Rex went to Junaluska one morning before daylight in the back of a truck just like Mr. Missy. So far Rex has fared better than Mr. Missy he's still alive and rumor has it he's the nicest rooster on Junaluska.
The Deer Hunter says "See we should have kept him so I could hear him crow." Me and the girls put our 6 feet down and say "Good riddance to bad rubbish!"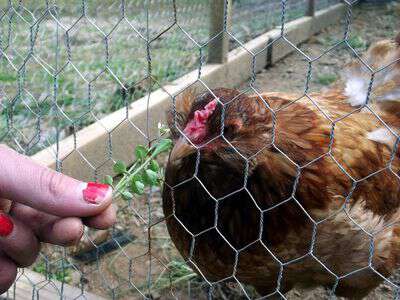 After Rex left, Nesta's feathers started growing back in and the hens settled down into life without a rooster. Gertrude became the boss, of the chicken coop-but she is more like a grouchy older sister who loves you instead of a bossy unusually large rooster hopped up on testosterone.
The 3 hens produced plenty of eggs for us-all winter we got at least 2 eggs a day-and usually 3. Nesta lays brown eggs, while Polly and Gertrude lay lovely green eggs.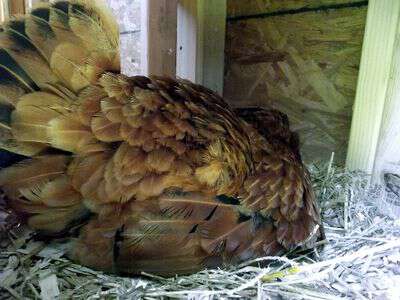 For the last few weeks we haven't been getting as many eggs because Gertrude has become broody-which means she wants to hatch some eggs. One day we noticed Gertrude was staying in the coop an awful long time.
The Deer Hunter built the coop with doors which open on the backside-so we don't have to go inside the chicken run to get the eggs every day. As we opened the door Gertrude got all bristly-fluffing her feathers up and making threatening noises. Day after day Gertrude set inside acting all huffy-most of the time the silly thing didn't even have any eggs under her-Polly and Nesta were laying their eggs on the other side of the box. The hens' eggs aren't fertilized anyway-since we got rid of Rex-so sitting them wouldn't do Gertrude any good in the long run.
The gentleman who gave us the chickens sent some fertilized eggs home with The Deer Hunter. Gertrude has been setting them for about a week. I'll let you know if they hatch.
Tipper