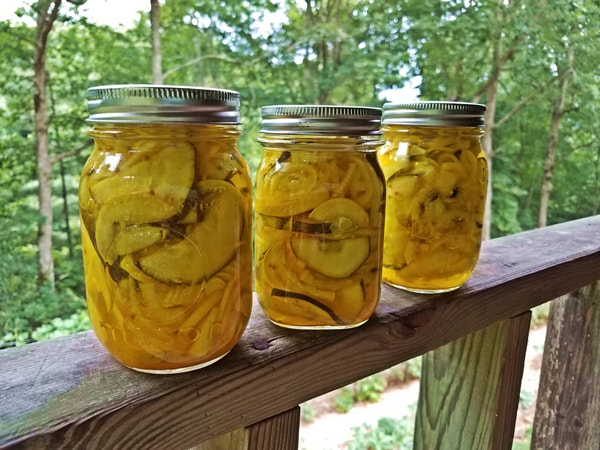 A few weeks back The Deer Hunter put in a request for squash pickles. I had plenty of squash and zucchini on hand so I got right to work.
Squash and Zucchini Pickles
4 quarts sliced squash or zucchini or a mixture of both
2 quarts sliced onions
1/2 cup salt
5 cups sugar (may be reduced to 3 cups for less sweet pickle)
5 cups vinegar
1 1/2 teaspoons turmeric
1 teaspoon celery seed
2 teaspoons mustard seed
2 quarts ice
Mix squash, onions, and salt. Cover with ice and let sit for three hours.
Drain squash mixture and set aside.
Combine all other ingredients and heat just to boiling.
Add drained squash mixture and heat for about five minutes.
Ladle hot pickles and liquid into clean jars and seal.
Process in a water-bath canner for five minutes. After cooling make sure all jars have sealed before storing for future use.
This week we:
froze about a gallon of blueberries
canned our kraut
made dill pickles
dried about three gallons of small tomatoes (a friend had an abundance and shared)
canned tomatoes
harvested 2 and half bushels of apples from a friend's trees (my plans are dried apples, applesauce, apple preserves, and apple jelly but it'll take me a while to get it done)
Tipper
Subscribe for FREE and get a daily dose of Appalachia in your inbox