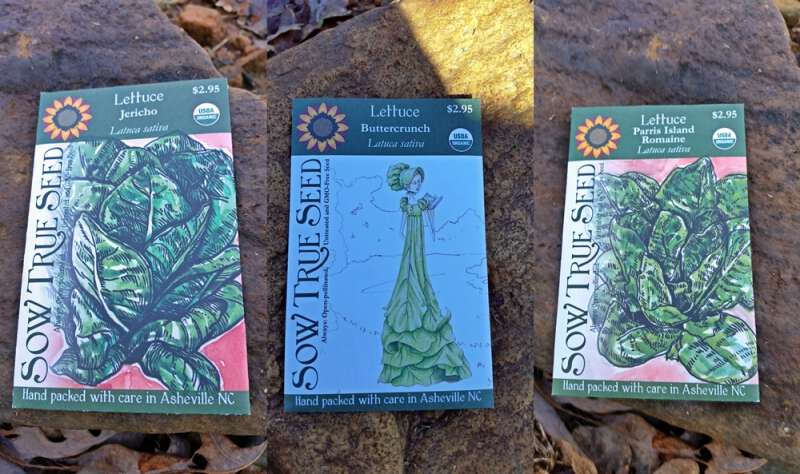 This year Sow True Seed has graciously donated extra lettuce seed so that I can deputize @ Large Lettuce Reporters during the fall gardening period.
I grew all the lettuce types in my spring garden. (click on any of the variety names below to jump over to Sow True Seed's website to read more details about the type of lettuce)
The Parris Island Romaine came up in a sort of spoty fashion at first but quickly took off like wild fire! Although all three lettuces were good producers with a good taste, this one might have been my favorite. Although I'm thinking I might have been partial to it because of the Parris Island name and Pap having been stationed there when he was in the Marines.
The Buttercrunch took a little longer to germinate and get started, but it did well overall.
Jericho was the one I was most excited about growing. It's touted to be perfect for hot weather and slow to bolt when the hot temps arrive and let me tell you it lived up to the claims. The lettuce was still going strong in July. July people! Crazy how well it did. I swear it didn't begin to bolt till the middle of July. The taste was superb as well. I'm anxious to see how it does in the cooler temp if fall. If it does just as good it may be the best lettuce of all time.
So what does being a Blind Pig & the Acorn Lettuce Reporter @ Large mean?
Sow True Seed is always looking for feedback about their seeds. You know things like plant germination, growth, production, pest issues, and most of all taste.
To be an @ large reporter you simply need to plant the lettuce seeds, keep track of how they grow, and send your findings and observations to either me or directly to Sow True Seed. If you can snap a few photos along the way for me to share here on the Blind Pig-that would be fantastic too.
If you'd like to be deputized as an @ large lettuce reporter. Email me your name, your address, and your top 2 choices of lettuce varieties above and I'll send you some seeds!
*The reporters @ large project has closed for this year, but be on the lookout for another opportunity to participate in 2018.
Tipper