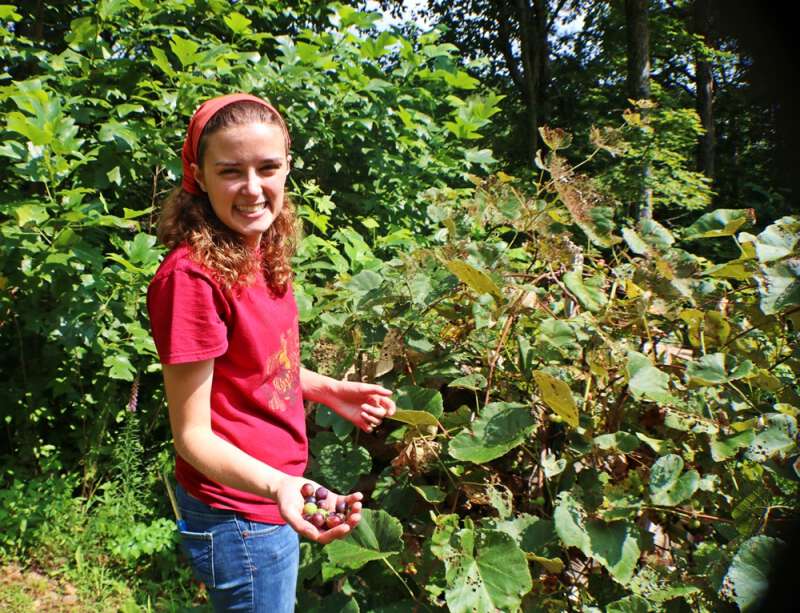 Our grape vines did very well this summer and its a good thing since there was no blackberries to make jelly with! A friend of Miss Cindy's gifted us with the grapevines several years ago. They've only become real producers for us over the last two summers.
Grapes are so much easier to pick than blackberries and they're even easier to turn into jelly, but I'll sure be missing my blackberry jelly this winter. Even with the extra work blackberry is my favorite. The first step in making grape jelly is to pick the grapes. If you're as lucky as I am you might have a pretty young lady to do that part for you.
When I'm picking grapes I always look around under the vines on the ground. You can often find freshly fallen grapes that only need to be picked up.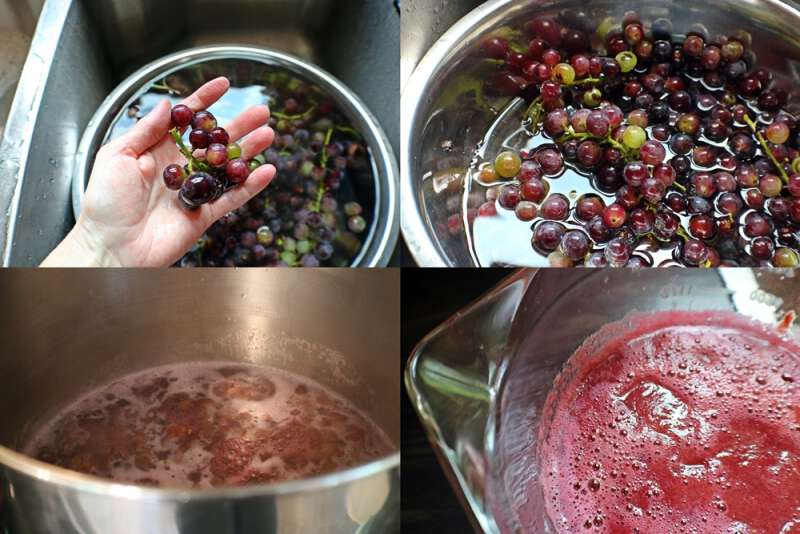 Next up is washing the grapes and de-stemming any that need it.
Once those steps are completed I wash the grapes a few times in cold water to make sure all the bugs, leaves, and grit are gone. Next I place the grapes in a large pot and add enough water to keep the grapes from scorching. I usually add water until I just begin to see it coming up between the grapes around the bottom edges.
I simmer my grapes for about 20 minutes to soften the skins.
I use my ricer to get the juice and pulp out of the grapes and then discard the skins and seeds. Grape seeds are so large that a simple colander or sieve works good for this step too.
You need 5 cups of grape juice to make one run of jelly. If you don't have enough you could make a half a run, pop the juice into the freezer until you get more or add a little water or store bought grape fruit juice to make up the difference.
Grape Jelly
5 cups grape juice
7 cups sugar
1 box pectin
Pour juice into a large sauce pot and stir in pectin. Cook over medium high heat and bring mixture to full rolling boil. Add sugar all at once and stir. When juice returns to a full rolling boil, boil for one minute.
Immediately ladle hot jelly into sterilized hot jars and seal. I turn my filled and tightly sealed jars upside down for about 5 minutes and then set them upright and cover them with a towel until they cool. Make sure each jar has sealed, then store until you're ready to use. If a jar doesn't seal, put it in the frig and eat it first.
What I just described is the open kettle method of canning jelly. If you read any cookbook or the instructions that come with pectin they will advise water-bathing the jelly for 5 minutes. Please do this if you'd feel more comfortable. I grew up with the open kettle method of canning and have been doing it myself for the last 20 years so I feel safe in processing mine in the old time way.
Tipper