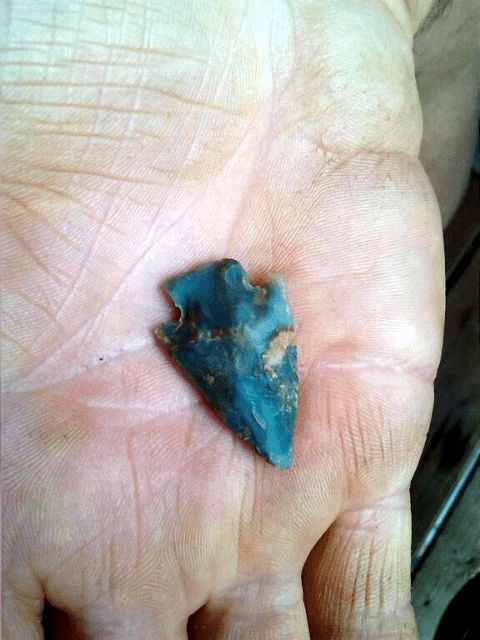 Today I'm going to tell you the story of the traveling arrowhead, don't worry it's not a very long journey-at least not in distance.
About 10 years ago, Uncle Henry found the amazing arrowhead you see in the photo in his garden. Over the years, many arrowheads have been found here in Wilson Holler mostly in gardens, sometimes in the woods. But rarely is there ever one found as nice as this one.
Uncle Henry knew he had a real gem. Then he went and lost it. He looked every where he could think of more than once all to no avail.
Uncle Henry chalked his loss up to carelessness and one of those frustrating things in life.
Fast forward to present time.
Uncle Henry was going down the road when he ran into one of our neighbors and friends. The friend stopped Henry, held out his hand which was holding the arrowhead, and said "Is this yours?"
Uncle Henry said "Where in the world did you get that?"
Rewind to the past.
After Uncle Henry found his prize arrowhead he sold his livingroom set to the man down the road. All these years later the gentleman's wife was doing some deep cleaning and found the arrowhead in the couch.
Every once in a great while, when we lose something of value it comes back to us in an unexpected way.
Tipper
Appalachia Through My Eyes – A series of photographs from my life in Southern Appalachia.