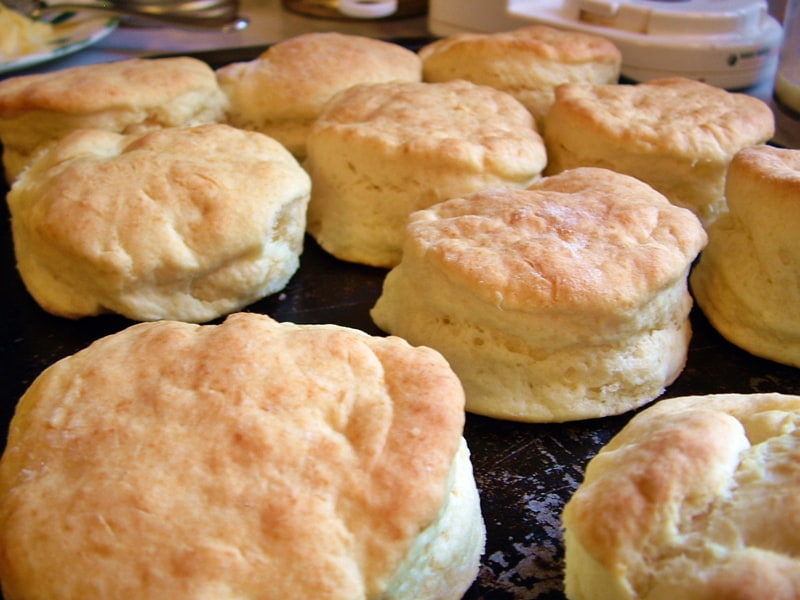 After my post about The Deer Hunter making biscuits on the wood stove I received several questions about our biscuit recipe.
Way back when I was first married I tried to make biscuits the way that Granny did. Sometimes they'd turn out okay and other times they weren't fit to eat.
One day I was complaining about my biscuits to Granny and she told me Pap's mother made the best biscuits and she used only used cream and self-rising flour.
I bought a carton of whipping cream mixed it with my White Lily self rising flour and I've been making biscuits that way ever since.
I use a 2 to 1 ratio: 2 cups of self rising flour to 1 cup of cream. The ratio makes it real easy to increase the amount of biscuits or decrease as needed.
Mix flour and cream together and turn out onto a lightly floured surface. Kneed once or twice till mixture comes together, add a little flour if needed.
Flatten dough out with hand or a roller and cut with a biscuit cutter or glass.
Place biscuits on a baking pan and bake at 450 degrees for about ten to twelve minutes or till golden brown.
Tipper
Subscribe for FREE and get a daily dose of Appalachia in your inbox