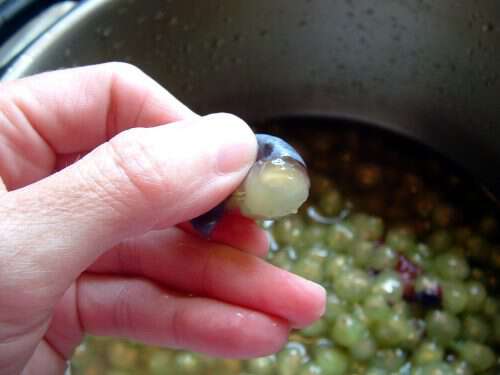 The Grapes are ripe and ready for the jars lined up on my kitchen counters. We have an abundant supply of wild fox grapes that grow along the creek, Granny has tame grapevines in her backyard, and Miss Cindy has a friend with more grapes than he can use-so my Grape supply this time of the year seems endless.
Sometime during the last year I heard my Aunt talking about Grape Hull Jelly. I had never heard of it-so I was curious. She went on and on about how it was so much better than your usual grape jelly.
The Blind Pig family mostly prefers jelly to jam-so I kept thinking about Grape Hull Jelly and wondering if we would like it or not. Finally I decided to try it thinking if we didn't like it I could always give it away for Christmas presents.
The first problem I ran into-I couldn't find a clear recipe of how to make grape hull jelly. So I kinda made mine up as I went.
~first I washed the grapes-and popped the insides out into a pot-reserving the hulls for later
~next I added some water to the pot and cooked the skinless grapes for about 15 minutes (I added water till the grapes were almost covered)
~I poured the grapes into my ricer-to get the seeds out-a food mill would also work good for this step or if you had to you could use the old timey method of cheese cloth/pillow case
I felt good about the process up to this point, but when I thought about adding those hulls back in-I just couldn't get my mind around what the texture of the jelly would be like. I almost gave up and just made jelly from the hull-less juice-but I kept hearing my Aunt's voice in my head.
~I got out my food processor, chopped the hulls up to a pretty fine texture, and added them back to the juice
~I pulled out a box of sure jel and followed the directions for making grape jelly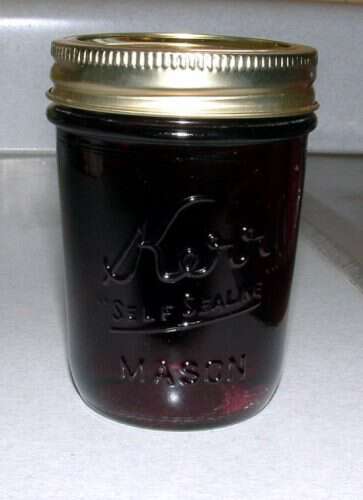 So what did I think about the finished product? My Aunt was right! The addition of the hulls gave the jelly an unbelievable brightness-and my worry about the hulls ruining the texture were for nothing. As the jelly cooked the hulls all but dissolved-and I believe if I had done a more thorough job chopping them they would have completely dissolved.
It's always hard to tell how many grapes it takes to make the amount of juice needed for making jelly-I had 2 cups left over. When I have extra juice, I put it in the frig if I'm going to make another run of jelly in the next few days or if it'll be longer than a week before my next run, I pop it in the freezer and then thaw it on the day I need it.
Since I've never made Grape Hull Jelly before-and I couldn't find a recipe I'm not sure I was supposed to chop up the hulls. If you've ever made it or ate it please leave me a comment and tell me what you know.
Tipper