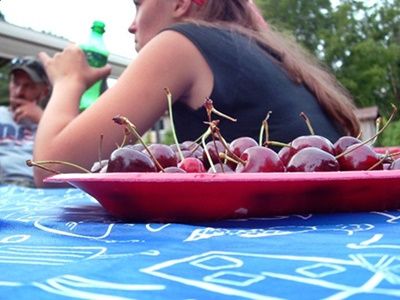 "Old man Amos stands treetop-tall in mountain folklore. He made his name and his fame with a concoction called Cherry Bounce.
It was a mixture of corn whiskey, honey and cherry juice. One good slug before breakfast and a man would spit in a wildcat's eye.
When Amos Owens settled in here 130 some years ago, cherry trees covered the mountain. They were so lavish that folks named the mountain for them.
He built himself a house of stone on a spur near the top of the mountain. It was three stories. He kept his mules on the ground floor. He and his family lived on the second floor. His bee gums occupied the third floor.
When his crops failed in 1845, he turned to a craft his ancestors had practiced in the peat bogs and green hills of Ireland.
He took up blockading.
And he came up with a blend of whiskey that brought folks streaming in to his rock castle from miles around. He called it Cherry Bounce.
In time, he got the reputation of being the masterest distiller in all the hills. He made corn whiskey and brandy and picked his cherries for more than fifty years. And for more than fifty years he kept up a running feud with the government, refusing to pay tax on the whiskey and brandy he made and sold.
Old man Owens figured the corn he raised and the cherries he picked where his to do with as he pleased. He honestly believed it was his inherent right to make and sell his whiskey and brandy without government levy, but the government figured otherwise and just about plagued the life out of him.
Uncle Amos, as some folks came to call him, was a character never to be forgotten.
He was a leprechaun of a man, round and red of face. He wore a Prince Albert coat and a shiny stove-pipe hat. Nobody ever caught him wearing a collar or a tie. Homemade galluses held up his baggy, homespun trousers, and his coat and vest hung loose. He talked in a high, cackling voice.
His home here in the hills of Rutherford County was known far and wide and, come June when his cherries ripened, it was a scene of a wild, rip-roaring celebration. Folks came from all over. From Tennessee and Georgia and South Carolina. The came by foot and on horseback, in wagons and in carriages.
On these occasions, Uncle Amos provided the food and the whiskey and the Cherry Bounce. And there was always a fiddle and a banjo, music-making and dancing. If some of his guests got too much Cherry Bounce, there was always the ground-floor stable where they could sleep off the effects and start all over again.
—"Cherry Bounce" written by John Parris
—-
The set up Amos had for his mules must have been fairly common. There's an old homeplace up the creek that Pap showed me one time. The house was built on a bank. The area under the house had been dug out of the hillside. It was a basement of sorts I guess you could say. Pap said the people lived in the house and they kept their cow in the space under them.
Tipper
Subscribe for FREE and get a daily dose of Appalachia in your in