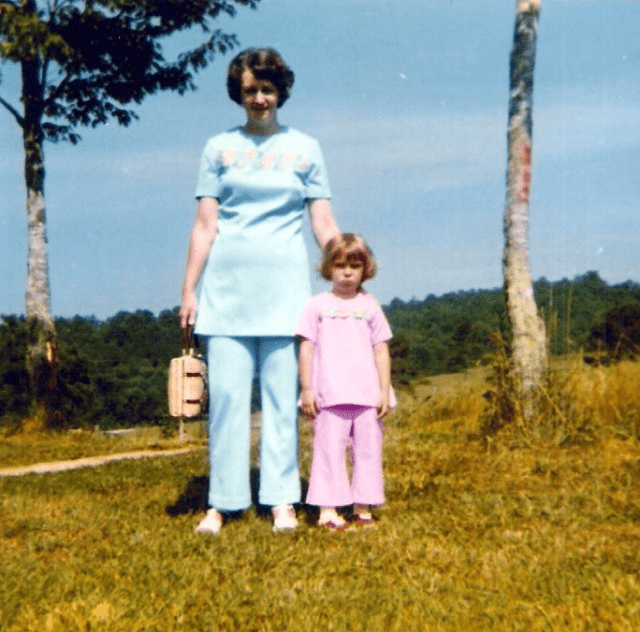 Granny and Tipper at Sherlocks
I look really happy in the photo don't I 🙂 I must have been upset at having to have my picture made that day. Maybe I was in the middle of playing and had to stop.
Granny sewed a lot back then. She made our matching polyester outfits. I wish I still had them. I do have one set of matching dresses that she made for us.
A couple of weeks ago I took Granny to get her hair permed. Over the weekend she was talking about her new hairdo and told Paul and me "I know exactly what your Daddy (Pap) would say if he could see my white hair. He'd say the old gray mare ain't what she used to be and laugh." Pap liked to tease Granny so I'm sure he would have certainly teased her about her white hair.
I was reminded of a period of time when I had another nickname besides Tipper. Pap was the only one who called me by it.
In the early 70s we lived at a little rented house over in Martins Creek. We always call it Sherlocks because that's the people we rented from.
Granny went to get her hair fixed one day. I really have no memory of the incident, only what Pap told me happened.
Once Granny got home she asked me if I liked her new hairstyle. I told her no I didn't like it and she looked like a dog. Pap got onto me and said that wasn't very nice how would I feel if someone told me I looked like a dog. I told him I'd like it just fine so he started calling me doggie. I can still see Pap's twinkling eyes as he called me doggie in the months after I was rude to Granny.
I hadn't thought about having another nickname in ages. I'm glad Granny's comment about being the old gray mare reminded me of a sweet story about Pap and me.
Tipper
Subscribe for FREE and get a daily dose of Appalachia in your inbox