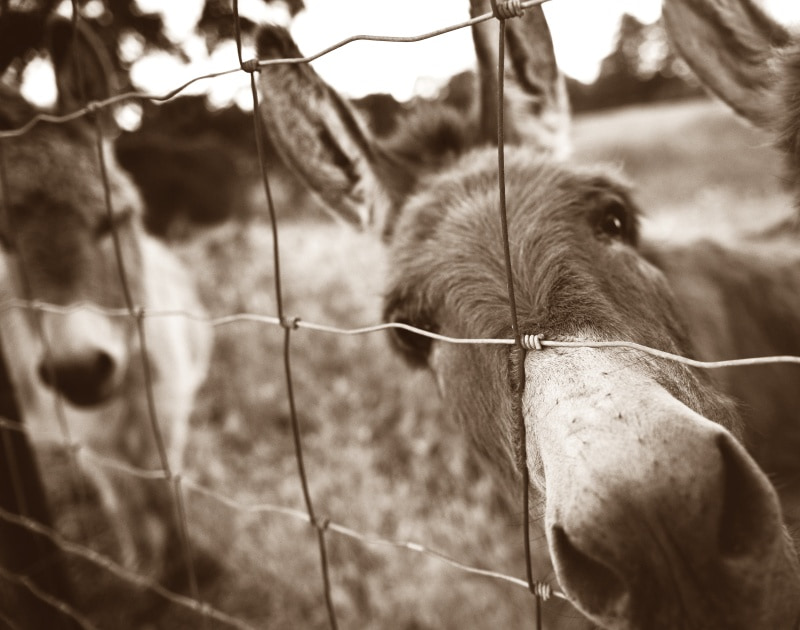 "Here's a story about that Andrew Gosnel. Old man Randall lived at the old home place about twenty years, and the first eighteen of them he stayed drunk all the time. One time I went up to see him. He said he had an old mule. The mule was a red mule, except the seat of the mule was white. It looked like the mule had just sat in white paint. The rump was white. It was the meanest old mule in the whole world. But he said, "Andy Gosnel was coming down the road and he had two jugs of corn liquor, one in each hand." He said, "Andy come down the road, and here come the State Highway 'Petroleum'. The State Highway 'Petroleum' was a-comin' and Andy saw 'em a-comin'. And, he jumped in the stall with that mule." Ad old man Randall said, "I seen the boards start flying off the wall on one side, and then they would fly off on the other side." He said, "I would have rather a-fit the whole State Highway "Petroleum' than to have jumped in the stall with that mule." But, Andy was a good one."
—Warren Moore "Mountain Voices
---
The story from Warren Moore reminded me of a story Pap told me.
One of Pap's friends went to Asheville to have his teeth pulled and be fitted with dentures. On his way home he had a flat tire. As he was bent over changing the tire someone came up behind him and pecked him on the shoulder. When he looked up a gentleman asked if he knew how to get to the apple orchard.
As you can imagine having all your teeth pulled can cause quite a bit of bleeding, not wanting to spit blood by the man's feet, Pap's friend just shook his head no.
The gentleman went back to his car and Pap's friend got back to fixing the flat.
A few minutes later the gentleman came back and pecked him on the shoulder again asking directions to a different location. Pap's friend couldn't hold it in any longer and the blood spilled down both sides of his mouth. The gentlemen started backpedaling and ran for his car.
Pap's friend told him "Why Jerry he thought I was one of those vampeers. Made me mad as fire I wore my only white shirt and kept it perfectly clean until that man came around asking questions."
Tipper
Subscribe for FREE and get a daily dose of Appalachia in your inbox