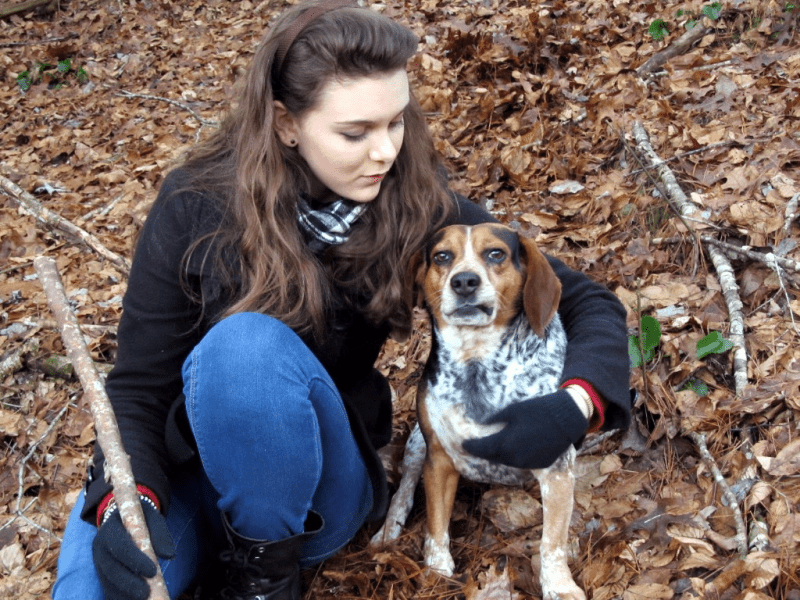 I've told you about our dog Ruby Sue and about Wild Bill who think's he's our dog or at least partially our dog. Molly Dog and Griffin also live in the holler they belong to my niece.
You can see Griffin in the photo as far as I know he will not let anyone pet him but her. A funny dog he is-all I do is look at him and he skedaddles. He roams our yard when no one is outside and Ruby Sue always lets me know when Griffin or Molly Dog is present she considers them her arch enemies.
I recently read an entry in my Dictionary of Smoky Mountain English that reminded me of Griffin, who never turns down any bite of food. It also reminded me of Papaw Wade and his hunting dogs.
dogbread noun Baked corn bread fed to dogs, variously made. See citations. 1994-97 Montgomery Coll. = corn bread made from plain meal without salt, soda, milk, or baking powder (Adams); = made of old or weevil meal, meat scraps, and bran, and baked for dog or hog food only (Brown); = corn bread sometimes that was more gritty and had more lard than normal (Cardwell); = regular corn bread cooked in a pan to feed the hunting dogs (Norris). [DARE South, South Midland]
Tipper
Appalachia Through My Eyes – A series of photographs from my life in Southern Appalachia.