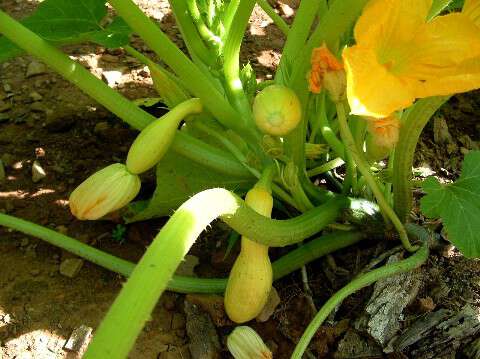 Summer is winding down and the results from the Blind Pig & the Acorn's 2nd Annual Planting by the Signs Test are in. Seems like only yesterday we started the test.
The test was sponsored by Hometown Seeds. Each participant got 10 seeds. They planted 5 on a 'good day' according to the signs and 5 on a 'bad day' according to the signs (a few folks didn't have room to plant all 10 seeds). We aimed for planting the good day squash on May 17 or 18 and planting our bad day squash on May 19 or 20.
Check out everyone's results and see what you think:
Tipper: I planted 5 good day squash on May 17th and 5 bad day squash on May 19. Only 2 of my bad day squash came up. All of my good day squash came up. I planted all the seeds in hills and made sure the hills for both days were in the same part of garden. The bad day plants that lived-produced only a very small amount of squash. The good day squash plants produced quite a bit of squash-I would say twice as many as the bad day. However-the squash plants I planted further down in my garden-the ones that had nothing to do with the test-produced a tremendous amount of squash leaving the good and bad day squash in the dust. I did plant the super producing squash plants on a 'good day' according to the signs.
Stacey: Had bad luck after the seeds were planted-if I remember correctly it involved a tiller. (stacey-tell us in the comments if you're reading this)
WKF: I had a terrible year for squash. I got squash borer's and squash bugs. The borers got my yellow squash before they could produce. But I will say both plant dates came up nicely. This was my first experience with borers. They were awful. A healthy plant in the morning, a dead plant in the afternoon. Any input on getting rid of them for next year would be great.
Paul P: I planted half with the dates we discussed and half off schedule. No question they both produced well, but the ones I planted by the dates (early) were better. I hope this helps.
Helen G: Helen wrote about her test-you can go here to read about it-and see some pics that detail the growth of both the bad and good day seeds.
Warren: I have not posted about the results because they seem so dramatically goofy to me. I planted on your schedule and my good seeds produced tons of squash and they were delicious. My bad seeds were absolute junk for growth and production.  It was so dramatic that I suspect there must have been some other issue playing a role. I don't know if more bugs got to them or if the rain screwed them up (we had more than usual this year). By dramatic, I mean the plants produced absolutely no squash whatsoever…and they looked pathetic. I know I shouldn't mess with science, but that seemed too extreme to be right/valid.
Becky:  I'd say that the good day planting produced squash 2 to 1 compared to the bad day planting.
B & Roy N: Roy my husband said that the seeds he planted on the good days were (plants) about three times bigger than the seeds (plants) planted on the bad days.
Jen: I planted 3 seeds on a good day and 3 seed on a bad day. My watering system failed miserably and only 1 of the bad day seeds came up.  MY fault and I am sad. The plant that did come up, gave us gobs of squash and kept my family as well as my parents supplied all summer. I made "Zucchini Bread" from it for the freezer as well. It worked perfectly.
David T: Bear with me in that I have a process control background and am so boring that I often start snoring and fall asleep on myself as I am talking, as do others around me.
About two weeks  prior to this picking I had cleaned all of the squash from both hills so I could have a starting point for some quantitative comparison of the yields once a new growth could be harvested. Once both hills had produced their fruit again I picked all the squash and compared the result.
Both hills produced an average of six (6) squash per plant. There was no difference in the quality, taste or size from plant to plant or fruit to fruit. I can say that the result was statistically inconclusive because the sampling was not from a large enough study. In quality and process control, a study of, say, thirty plants per variable (good day, bad day) would have given a statistically valid comparison.
There was this notable exception, however. The plants in the good hill came up ten days earlier than the bad day plants and bloomed and bore fruit much sooner than the bad day plants. This was in spite of the fact that the hills were planted only one day apart.
And this is also true: The seeds from your sponsor,
Hometown Seeds
, were very, very productive. We had squash all summer and we couldn't eat it or give it away fast enough and we should have taken time to preserve some of the bounty. I am impressed with the quality of their seed. I'll buy from them.
Martina: Good day seed-didn't work out. The one plant that came up is about 2 in. in diameter. Bad day seed-both propagated. Producing blossoms right now and are large plants.
The good day seed was planted in a pot, the bad day in the ground near a path. They were watered equally as much, same light-the pot is about 3 yards west of the ground planted ones.
Barb G: We have had a hot dry summer. Both seeds took a long time germinate.
They have not had any squash yet but both have blooms. Finally! I couldn't really tell a lot of difference in the two plantings.
Paula: Well, mine were a bomb. We had a really cold and rainy spring and summer. My "good" seeds started to come up, but froze and were lost. My "bad day" seeds didn't even peek above the ground. Our average high this summer was 55 with only a handful of real summer like days.
Jeannie: I haven't heard back from Jeannie. Hopefully if she reads this post she'll let us know in the comments how her squash grew.
——————————
So what do you think? One thing is obvious-even if you plant by the signs you still can't control the bugs or the weather. I hope you'll leave me a comment and tell me what you deduced from the results.
As for what I think: I planted everything in my garden by the signs this year-I made sure I planted the seedlings I started indoors on a good day and I made sure when I transplanted them it was a good day as well. We had the most productive garden we've ever had-everything grew and produced to the point that I'm tired of putting it up and I'm tired of giving it away. You can't argue with success-so I'm going to extend my planting by the signs goal to next summer.
I hope a few of you will be up for participating in the 3rd Annual Planting by the Signs Test here on the Blind Pig next year. We may not make any earth shattering discoveries with the tests-but it sure is fun-and tasty too!
Tipper