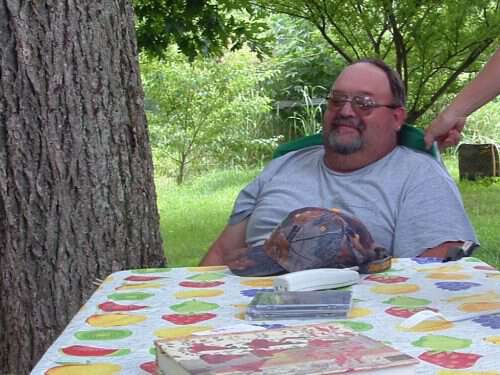 Today's post is a Mountain Folk interview. It's been a while since I last did one-something I hope too remedy in the future. When I first started the Blind Pig one of my desires was to interview the older generations-to get down on 'paper' what their early lives were like-to garner valuable information about the old ways before it's too late.
Over the last 2 and half years-I've made a wonderful discovery-in addition to the older generations-I've found there are folks my age (some younger-some slightly older) who are carrying on the old traditions too. In other words-I'm a naysayer to those who say the Appalachian Culture has faded away. I've found it's alive and well in households from one end of the Appalachian Mountains to the other.
My goal is to do more Mountain Folk interviews-to preserve the wealth of information the older generations own-but also to spotlight everyday folks who have found a way to weave the culture of our forefathers into the modern lives we lead today.
Today's Mountain Folk Interview is with J.C. Cole. J.C. was born and raised in Haywood County NC.
J.C. what were things like when you were a kid compared to now?
Well we didn't sit around and watch tv all the time. I remember the first time I saw a color tv was at Sears & Roebuck. There wasn't no sodiewater or soft drinks. You either drank milk or water. If you did get some cider or juice it was a real treat.
Since you mentioned food-what were the differences in food from then till now?
We had fried taters all the time but didn't know much of nothing about french fries. We used loaf bread for our hamburgers. And we had coarse ground cornmeal. I like to have never gotten used to store bought cornmeal. Daddy always said yellow corn is for the hogs and white corn is for the people. When I was a boy we grew or raised most everything we ate.
You've lived in this area your whole life-how has Haywood County changed?
When they finished up this part of interstate 40 I remember people saying why in the world are they building such a highway when you only see 10 or 12 cars go by. Why they'll never be enough vehicles to fill it up. But we were wrong. I sit here some days and watch the little portion I can see in the distance and the traffic never stops, it never stops day or night it just keeps going in both directions.
What would you say about today's Appalachia?
Younguns don't know what they've got-but they don't know what they've missed either. Folks just rush through it all. They don't take time to enjoy life. The last 2 years I've been forced to slow down by my health and now I realize what's important and what isn't worth a hill of beans. Society tells our kids that they need to start out at the same level as their parents or better. The I wants have gotten above the I needs.
Do you know other people-who are like you-who are holding on to the old ways?
Yes I've got lots of friends who were born and raised in the area that do things the way their Mommas and Daddies did. They still slaughter hogs, hunt, raise a garden, can, quilt, and one still makes syrup every year.
Can you sum up what you'd say about your life in the Southern Highlands of Appalachia?
I'm afraid it's a changing for the worse. People don't realize this is a gift from God. People don't realize The Smoky Mountains are in their backyard. The mountains weren't never meant to be cut up and built all over. You can't even drink from the streams no more. But I wouldn't live no where else. We've got the best weather and there's not a prettier place either. The hard work ethic our people have, the having to make something out of nothing way of life caused the strong fierce independent nature of the people of Appalachia. Today we don't have much but what we have is ours. I don't have to worry about bills and owing folks. We grow a garden and raise livestock for food. Other than having electricity we live much like my grandparents did and it makes me happy to know that.
—————————
Hope you enjoyed meeting J.C.-just an everyday person who lives out his life in Appalachia walking in the footsteps of his elders.
Tipper