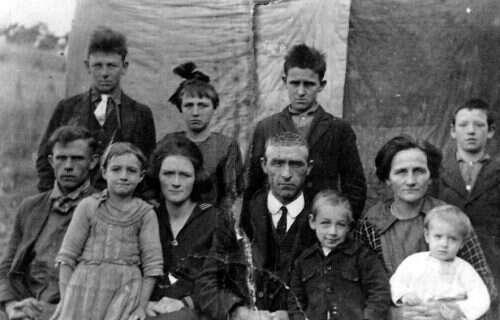 Granny Gazzie's family – The Truetts 
You can't turn on the tv, pick up a magazine or go on-line without being bombarded by advice on "being green" for the environment. I'm all for taking care of the Earth-but my top priority is taking care of my family. Thankfully there are many ways the 2 can go hand in hand.
Back in the day-folks were "green" not because they were trying to be good stewards of the Earth-but because it was a way of life. Some of the "not green" things we face today (think: plastic water bottles, plastic bags, paper towels, cleaning products) hadn't even been invented yet. In those days you either had a reuse-recycle-repurpose attitude or you pretty much didn't survive.
Our ancestors were self sufficient because they had to be-no one was going to come along and ensure they were fed or clothed and they most certainly couldn't jump in the car, drive to the local Wally World, fill up a buggy, pull out the credit card and charge what they needed.
Since the beginning of time folks have had to figure out how to make do with less than what they needed-it would be impossible to think of all the examples but a few that came to mind:
Repurpose clothing-take mother's old dress and cut it down in size for sister Ann
Handed down clothing/shoes that were to small for a growing child but perfect for the next child down
Resoled shoes-have any of you ever resoled your shoes? I haven't-truthfully I've never had to wear a pair of shoes until the sole was wore out
Save all fabric scraps/old clothing to make quilts-sometimes called crazy quilts-my favorite kind of quilt-seems there is such history and meaning in the fabrics
Rain barrels
Hanging out clothes to dry
Chickens-for eggs, for meat, feathers for pillows and beds
Vegetable gardens for the food they ate
Meat-when an animal was slaughtered an attempt was made to use every last part of the animal-a friend Jackie told me: "When we slaughtered a hog we used everything but the oink."
Preserved every bite of food they could-while I can and freeze stuff-I don't even come remotely close to preserving the amount of food our ancestors needed for survival
I didn't even skim the surface on the issue of how past generations were "green" without knowing it. In all the hoopla about saving the environment and reducing our carbon footprints-the money saving aspect is mostly overlooked.
Often being "green" can help your family save money-you save money by not using as much-as much of anything. By instilling the waste not want not attitude and the make do mentality in your life you will not only save money-but be a little greener too.
If any other old fashioned "green" ways come to mind-please leave me a comment.
Tipper