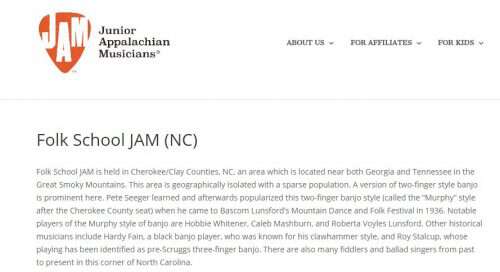 Ever heard of the JAM program for kids? Our local Elementary School has participated in the program for several years. I first heard about JAM when Guitar Man and Mandolin Man-my nephews-signed up for the free after school music lessons.
Over on the JAM website-they sum up what they're about better than I can-their Mission is stated as being: "Junior Appalachian Musicians, Inc. helps communities provide opportunities for children to participate in the old-time and bluegrass music and dance traditions of the Southern Appalachians."
A few months ago I the pleasure of  interviewing JAM's founder, Helen White, about the program.
How long has JAM been around?
I was a Guidance Counselor for Sparta in Allegheny County in the spring of 2000. One day I went into a 3rd grade classroom to do a guidance session. The teacher was holding photos of instruments up telling the kids what they were. Sparta did not have a music program, so the only way the students could learn about the instruments was by looking at pictures. I offered to bring in my instruments for the children to see and the teacher agreed. The students enthusiasm about seeing real instruments gave me the idea to write a proposal for funding for a music program. The very next night I ran into a friend who was a folklorist and after I spoke to her about the proposal, my friend took the idea to the National Endowment for the Arts. It was like the program was meant to be from the start.
How many different communities take part in JAM?
Western NC has the lion's share of the programs mostly because the NC Arts Council took a real interest in the program. The Arts Council was able to acquire a grant that paid for 7 Counties in Western NC to fund a JAM Program in their area. Blueridge National Heritage also provided for 3 NC counties. A group from SC has started a YAM-Young Appalachian Musician program that is affiliated with JAM. There are also JAM Programs in Galax, VA and Grayson VA.
So it sounds like JAM continues to expand in all directions?
Yes, next year we will partner with The Crooked Road Music Trail in Southwest VA. They will give us the opportunity to introduce JAM to 19 counties across VA.
I know our local JAM Program 'loaned' the instruments to students at no charge-is that how it's usually done?
Each county handles the instrument issue in a way that best fits their area. Some charge a small rental fee while others don't.
Since our local JAM Program only has music lessons-I didn't realize traditional dance could also be part of the program until I poked around your website. Is the music more common in the program than dance?
Yes there are more instrument/music JAM Participants than there are traditional dance. We started offering traditional dance instruction as an enrichment program. As the young musicians progressed in their ability it became obvious we needed 2 different levels of lessons. We needed something for the group level who wasn't in class at the moment to do. It was a natural thing to add dance and folk songs to the program.
Do most JAM Programs meet on school grounds?
More programs meet in an after-school setting on campus than not. Some meet at art councils. Most schools are receptive to the JAM Program being part of their extra curricular activities. And some schools even provide buses to get kids from the school to where their JAM session takes place if it is off campus.
————————————-
JAM has a great website-full of information, videos, and links. I encourage you to jump over and check it out. When my nephews were in JAM-I was pleased that our local community was encouraging our youth to value the traditional music of Appalachia-but once I realized the JAM Program existed beyond my county-even beyond my state I was totally blown away.
Not everyone is fortunate to grow up in a musical family like I did-and in today's tough economic times-most parents can barely afford the basics much less provide music lessons. I believe Helen and the rest of the JAM Gang are providing a valuable service to both the children and to the whole of the region by ensuring the music of Appalachia continues to thrive by exposing our youth to it.
Tipper