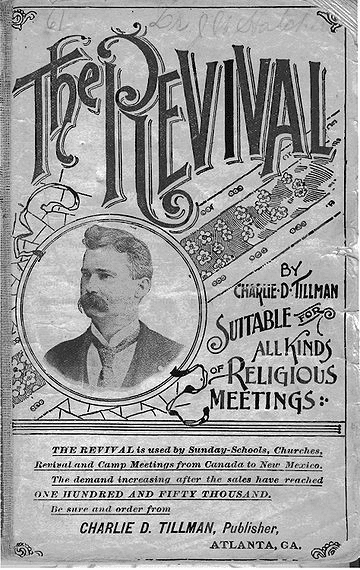 Charles Davis Tillman was born on March 20, 1861 in Tallassee Alabama. His father was an evangelist. Tillman started his career as a singing evangelist in 1887, before that he performed for a traveling medicine show-selling Wizard Oil. He went on to start a music publishing company in Atlanta, GA where he published 20 gospel song books. He is often remembered for publishing the negro spiritual Old Time Religion after hearing it at a camp meeting.
Tillman was a prolific song writer and also collaborated on a number of songs with other writers and musicians. Perhaps the most popular song he collaborated on was Life's Railway to Heaven. I was pleasantly surprised to discover Tillman wrote They Were in an Upper Chamber. I can never think of that song without hearing The Marksmen's rousing version of it playing in my head.
Pap and Paul have been singing one of Tillman's more popular songs for the last several months: When I Get to the End of the Way.
I really enjoy the melody from Tillman's When I Get to the End of the Way, something about the tone makes me think of Christmas songs. I hope you enjoyed it too!
Tipper
*Source: Hymntime.com