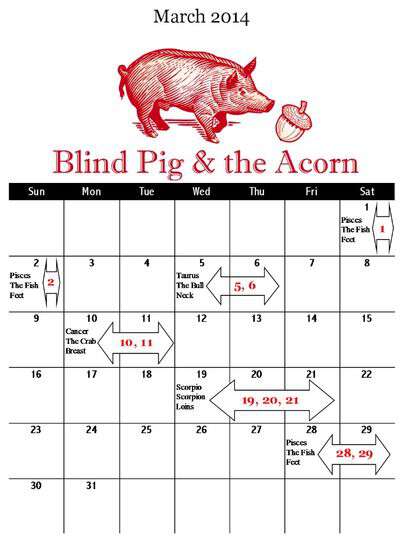 Can you believe it's March already? I can't. The month of March snuck up on me while I wasn't paying attention. I haven't planted anything yet-but I'm hoping to remedy that soon.
Most of you know I share a planting calendar each month of the growing season-but just in case you're new to the Blind Pig I'll explain it for you.
Each month from March till about August I share a planting calendar that shows my favorite days for planting according to the zodiac signs. My favorite signs to plant under are Cancer, Pisces, Scorpio, and Taurus. There are other fruitful signs-but those 4 seem to work best for me and my garden.
Today is supposed to be a fine day to be outdoors-I'm hoping to get my small gardens cleaned up and ready-so that come Monday evening I'll be able to sow a lettuce bed or 2, plant some beet seeds, and put some onion buttons in the ground.
I appreciate everyone who lined up to be deputized as a squash reporter. In case you missed the opportunity-go here to see if you're interested. This will be the last call for Squash Reporters @ Large.
If you've already got started on your garden-tell us about it!
Tipper