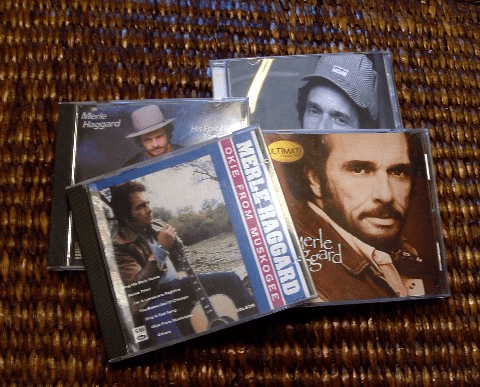 I grew up in a family of Merle Haggard fans. How can anyone deny the man's musical genius? I believe his name was uttered with deep reverence in my home because as a musician he truly had it all. Haggard had a voice that arguably is among the best ever recorded, he had the guitar playing down too, but his appeal doesn't quite stop there.
Haggard was often called The Poet of the Common Man. All one has to do is listen to his original songs to understand why.
The songs Haggard penned speak directly to the every day, hard working, trying to get ahead, life is sometimes a pain, Joe on the street. His songs are about real life.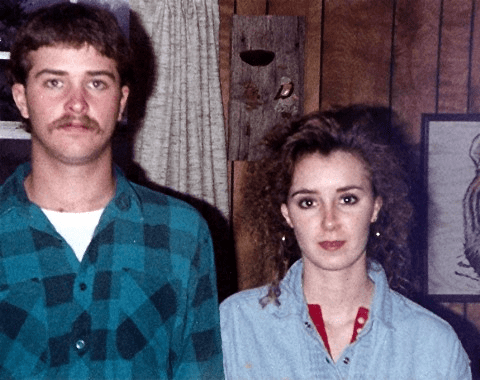 The Deer Hunter and Tipper (early 90s)
Through the years I can trace my love of Haggard songs by the way they came packaged.
First there were the albums Paul and I listened to as kids. One day as we were digging the Merle tunes I said "You know we should invite him to come over." Paul said "Yeah like why would he come here? He's famous." Even at that early age I had found the secret to Merle Haggard's success. By listening to his songs I truly believed he must be just like us. And hey someone was always coming by to pick and grin with Pap so why not Merle?
Elementary school was made happier the day I got my first portable 8-track tape player. The teachers allowed me to bring it to school as long as it was only played during recess. One of Granny's trips to Gainesville GA supplied my most popular 8-track for school, Merle's Rainbow Stew album.
During my last year of high school I bought my first car and it had a cassette player. As most high school seniors I had all the angst about what to do with my life going round and round in my head. The Merle song that takes me back to those days-Momma Tried.
Most couples have a certain song or type of music that brings to mind the early days in their relationship. Without a doubt the courting days between The Deer Hunter and I were filled with the songs of Merle Haggard blaring from the cd player.
A few years ago when we first filmed one of my favorite Merle Haggard songs, Silver Wings, Paul joked that it almost seemed a sacrilege to put our version on youtube because no matter how many times we did it our attempt would never even get close to the original.
I love playing Silver Wings because  it's one of my favorite songs, but mostly I love knowing that as kids Paul and I sat around in the floor and listened to Merle sing it and here we are as adults playing it ourselves.
For this Pickin' & Grinnin' In The Kitchen Spot Silver Wings written by Merle Haggard.
I posted portions of this post a few years back and decided to re-post it since Merle Haggard died earlier this week. I've got too many favorite Merle Haggard songs to narrow it down to just one, but you can check this link out to hear a few of my favorites: Merle Medley.
Tipper