Today's guestpost was written by Ed Ammons.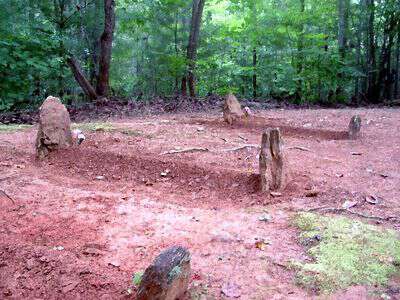 Two Upright Stones on the Hillside written by Ed Ammons.
There are two upright stones up on the hillside above our home on Wiggins. Daddy told us to leave them alone. He said he thought they were graves and not to disturb them. I, being afraid of everything, had no problem with that. I wouldn't even go near them unless I had somebody else with me.
Harold and cousin Crazy Joe weren't so timid. As 10 or 12 year old boys will do they imagined that the markers were for an Indian burial ground or maybe a hidden treasure. They just had to find out. Me, I was sure they were graves and if they were disturbed, the souls of those interred there would haunt us the rest of our lives.
But out came the mattock and shovels and off they went while I stayed behind to pursue my own agenda, meanwhile ever conscious of the transgressions that were taking place up on the mountain. I could hear their muffled voices and the sounds of their tools striking the ground. This continued for what seemed to be hours with intermittent short breaks, then it stopped, dead silence!
I look up the hill and here they come. Not running but moving at a pretty good clip. And pale as a ghost, both of them. "What's wrong? What did you find?" "Nothing. Just an old piece of wood." "Where are the tools?" "We left them." "Are you going back to get them? Daddy will git you if you leave them up there?" "I ain't going back!" "I ain't neither."
Daddy took care of his tools and only let us use them if we treated them with the same respect. That left me to retrieve the tools or face Daddy's wrath. So off up the mountain I go at a fairly good pace, but the farther I got, the slower I climbed. When I got in sight of the scene, I stopped. I could see a mound of dirt. A sense of dread settled over me. I wanted to turn and run, but I knew I had to get those tools. On I go. One short step at a time. Right up to that hole and the mound of dirt beside it. Something is telling me to grab those tools and run. Something else is telling me, you can't go off and leave that grave open. The second voice won out.
I picked up one of the shovels and started to fill the hole without looking down inside it. More than half the mound was gone before I worked up the nerve to look where I was throwing the dirt. The more dirt I got in the hole the more the sense of dread was lifted. There was enough dirt to make a little mound on top. By the time I replaced the little stone I was feeling good about what I had done. I picked up the tools and started back down the hill. After just a few steps, I turned back toward the little mound and whispered, "It's alright children, go back to sleep now."
Harold might dispute my version of this story. Crazy Joe has a grave of his own now on another mountain top not too far away. Maybe he stops by to check on the children every now and then.
———————-
I hope you enjoyed Ed's guestpost as much as I did!
Tipper