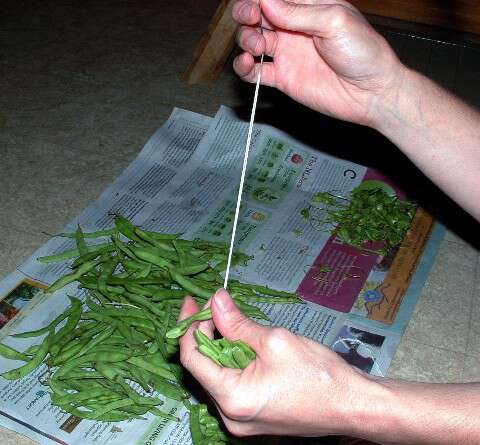 Some of you may remember back in August I made leather britches for the first time. (if you missed it-click here to read about how I made them) Since then-they've been hanging in my living room.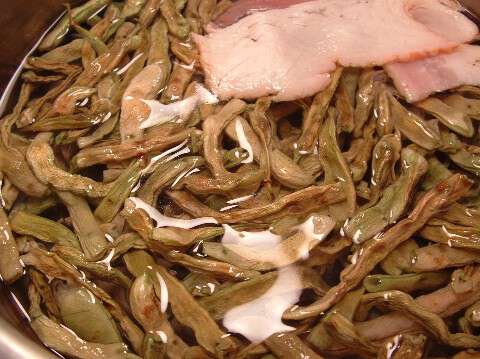 I actually forgot they were there more than once-but Chitter or Chatter would remind me by asking if I was really going to eat those disgusting looking things. One day last week-I removed the beans from the string and soaked them in a bowl of water overnight.
Next I drained them-put them in a pot, covered them with water, and added a piece or 2 of bacon.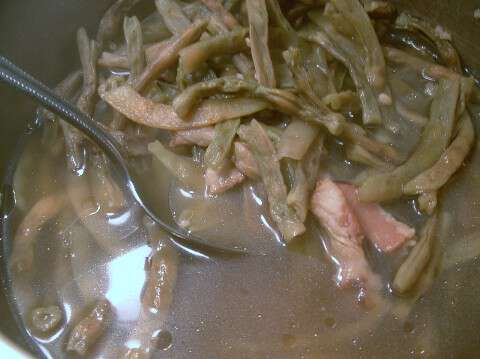 I cooked them for about 4 hours-making sure the water didn't cook out. I'd never eaten Leather Britches before-so what did I think? I liked them. I don't think they are as good as the greenbeans Granny cans each summer-but I certainly wouldn't mind eating them again. I believe they would have been even better if I had used higher quality beans-I used the last in the bucket at the end of the season-and if I had used fatback to season them with instead of bacon.
I see why the old timers made them each year-it would have saved on using canning jars, the process of drying them was a whole lot easier (to me) than canning greenbeans, and they are quite tasty too. I may just string so many leather britches this summer-that I have to put some in the girls room-that should give them something to talk about 🙂
Hope you'll leave me a comment and tell me your thoughts on Leather Britches.
Tipper