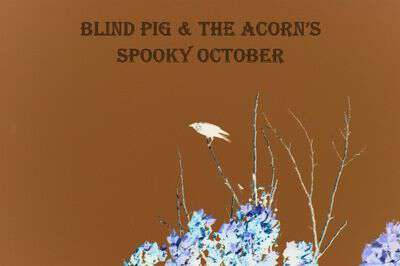 Today's Spooky October entry was written by Laurie Stone.
————————–
Many years ago on a dark and misty night near the top of Bent Mountain, the Ford children, who lived in the Old Home Place at the time, were startled awake by the frantic screams of someone yelling "Help Me, They Done Got Me!".  As you know, the Old Home Place was located very close to the family cemetery.  It seems there was a demented woman visiting someone who lived in the farm lands. On this particular dark and foggy evening, this woman decided that she needed to visit the Caperton cemetery and pound stakes into the graves. No one knows why she believed this needed to be done, as far as we know there might have been a few eccentrics in the family, but no vampires or werewolves that we are aware of.
Barbara and the other children along with all of the adults in ear shot on the mountain, ran out to see what all of the commotion was about.
What they saw when they reached the gates scared them to death – a woman was frantically trying to leave the cemetery – but appeared to be stuck at one of the graves and couldn't escape!
I bet a million thoughts ran through the little minds of the Ford children while they watched this desperate woman grow more and more hysterical. I also bet the kids thought she was going to be pulled down into the cold, hard earth – never to be seen again.
I suppose one of the adults in the group had the presence of mind to open the gate and see if they offer some help – or maybe at least keep the poor demented woman from dying an early death at the hands of a ghost.
Imagine the relief that went through the crowd when they realized the reason the woman was stuck at the grave was because she accidentally impaled her skirt with a stake.
————————–
Ha-now that's a good story! I hope you enjoyed Laurie's tale as much as I did. It reminded me of a humorous ghost story I heard as a child-you can go here to read it.
Tipper