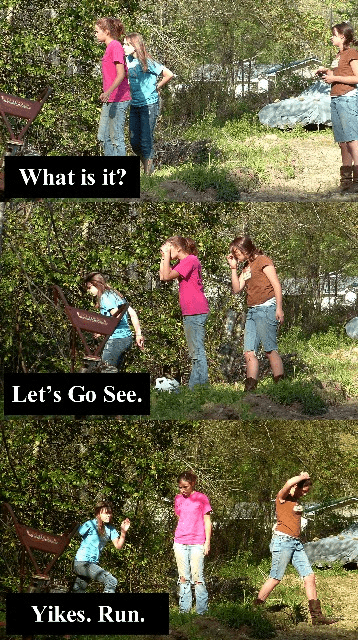 I took the photos above back in April or May of this year. I was sitting at the far end of the garden waiting on Pap and Paul to get the tillers cranked for the first time of the season. I zoomed in on the Three Indian Princesses to see what they were up to. Obviously they saw something suspicious in the creek.
After conferring one with another-they decided to move in for a closer look-screams and shrieks soon followed. It didn't take them long to leave the dark creek bank and high tail it back to the safety of the sunshiny plowed field. Knowing they had seen something that spooked them-I told Pap and Paul as much. Paul yelled and asked them what they seen.
The ensuing attempts to explain what they saw, with sign language from the far end of the field, were funnier than the photos. Chatter held one hand up with her palm facing us-fingers spread wide. Then using the index finger of her other hand she drew a large circle on her palm. The other girls stood stock still beside her; all had stoic facial expressions which if you know them is totally bizarre in itself. In just mere seconds they were off continuing their search for arrowheads in Paps big garden like nothing had happened. It was such an odd sight Paul, Pap, and I all had a good laugh over it.
What the girls seen surely made them say:
scared the living daylights out of me (what are living daylights?)
scared me to death
scared stiff
scared me half to death (I guess half to death is better than death)
scared the beejesus out of me
scared witless
scared as a rabbit in a fox hole
had me quaking in my boots
gave me a case of the heebie jeebies
scared as a long tail cat in a room full of rocking chairs
gave me the willies
Got any to add?
Tipper