Today's guest post was written by Don Casada.
_________________________________
Robert and Elizabeth Beck Collins – Pioneers of the Pioneer Church of the Smokies written by Don Casada.
Both Mount Collins and Collins Creek are putatively named for Robert Collins, but I hope I won't appear at once both politically correct and patronizing to suggest that they are named for both Robert and his wife, Elizabeth Beck Collins. Married in 1830, the couple's love and labors together bore fruit in children, community, and more broadly, across the range of peaks of the Great Smoky Mountains.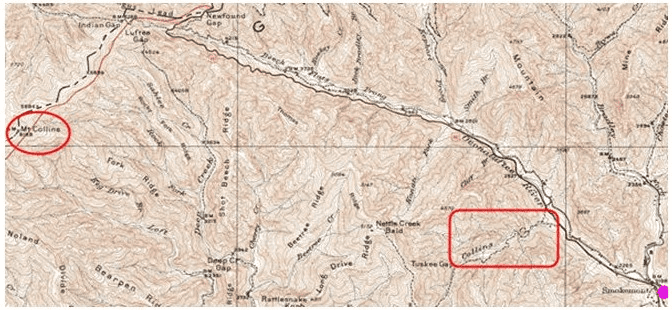 1931 Topo map of upper Deep Creek and Luftee.  Mount Collins is in the ellipse; Collins Creek is in the rectangle. The Ocona Lufta Baptist Church is at the pink dot. 
Robert and Elizabeth were among those present on June 6, 1836 in the home of Dr. John Mingus when the Ocona Lufta Baptist Church was organized with twenty-one original members. Robert Collins and Ephraim Mingus were elected as the first church deacons.
Robert was a toll keeper for the Luftee Turnpike, which ran up length of the Luftee, swung up across the upper end of the Thomas Divide (named for William Holland Thomas, a white Cherokee chief and leader of the Thomas Legion during the Civil War), and crossed the main spine of the Smokies at Indian Gap. Indian Gap is a bit over a mile west of Newfound Gap, and about 3 walking miles east of Mount Collins. You can still see much of the old road. I've walked parts of it; some is easy going, but in other areas, it is almost impossible to even see, let alone follow (severe rhododendron hells). On the Tennessee side, the existing Road Prong trail, maintained by Park Service employees who earn their keep as well as volunteers, pretty much follows the old road. During the Civil War, Confederate troops rolled cannons up the Luftee Turnpike, but the Tennessee side was so steep that they had to disassemble and slide them down. The Road Prong trail terminates near the Chimneys, a popular viewpoint in the Smokies.
A personal favorite story about Robert Collins is that he was the guide for Arnold Guyot, who first mapped the Smokies and measured the peak elevations in the 1850's. The areas they walked are today traversed by the highest sections of Appalachian Trail. There was no trail at that time, of course. For anyone who has ever walked through that section and paid the scantest attention to what off-trail travel would be like, the thought of them doing it while carrying scientific equipment (not the lightweight stuff we have now) is mind-boggling. By the way, there is a mountain near Tricorner Knob, the most remote spot in eastern North America according to a study from the University of Tennessee, named Thermo Knob. It is so-named because Guyot dropped and broke his mercury thermometer there. Completely independent of the physical difficulties in getting around in this area, as an engineer whose cash-paying work involves field measurements in sometimes challenging industrial settings, I am awed by the quality of Guyot's work. His estimates of most peak elevations were amazingly close to what modern measurements indicate. A fervent Christian himself, a factor which may well have played a part in his choice of Robert Collins as his guide, Guyot sought out excellence in all things: instruments, methods, and – in the case of Deacon Robert – guidance.
From 1808 until 1851, the Oconaluftee area was a part of Haywood County. Macon County had been formed in 1828, but its dividing line in this area was the next drainage to the west, following the meanderings of a creek then known as Newtons Mill Creek. Today, we call it Coopers Creek.
The 1850 Haywood County census indicates a 45-year old Robert and 41-year old Elizabeth Collins living in the Luftee area. They had brought forth abundantly in the earth, and living with them were six sons and four daughters. Neighbors included white families with long histories in the area – Mingus, Hughes, Enloe, Floyd, Conner, Bradley, Gibson, Carver and Beck, including Elizabeth's parents John and Jane Swearingen Beck.
But there were also a large number of Cherokee Indians with a significantly longer area history and lovely, melodic, soft-sounding names – such as 90-year old bachelor (or widower) Honey su cah, Le to li che and his wife Cos ti you he, and a young couple, Hoona cho sah and his wife Coo ne les ce – living nearby.
Most folks, white and Indian alike, including Robert Collins, listed themselves as farmers, but there were millers, a medical doctor (John Mingus), and the Baptist minister of the Ocona Lufta Baptist Church (Jacob Mingus).
Mount Collins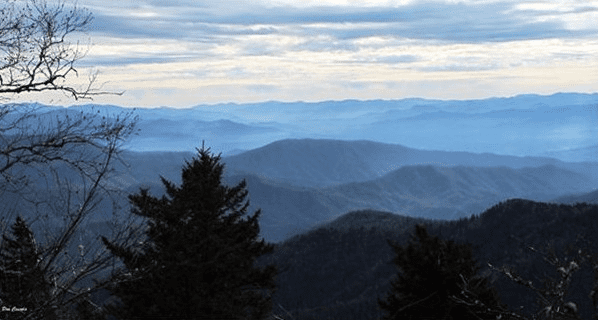 A late view southeast from Mt Collins across Deep Creek to the far blue Balsam Mountains of Jackson County in the beyond. The somewhat flat-topped ridge in the photo center is part of the Thomas Divide, which separates Deep Creek and the Oconaluftee basins.
Mount Collins, fittingly named for Robert who guided Guyot across its peak, is the location of one of the most significant geographical markers in the Smokies, Meigs Post. That location was part of a line run in 1802 to define a disputed boundary line between whites and Indians (which, of course, kept getting shoved to the west as time progressed). A literal post was placed there by Return Jonathan Meigs, who had served as an officer in the Revolutionary War, on August 17, 1802. In his log for that day, apparently recording a statement he made at the erection of the marker, he wrote:
"Erected by the order of Thomas Jefferson the Supreme Executive of the U. States. The man who in Eloquent Stile & firmly collected attitude, in the Face of the Universe announced the Independence of the United States of America.
The undulation of his Voice made Tyrants tremble; and revived the Hopes of oppressed Humanity in distant Regions.
August 17th 1802
Cherokee Nation    Tennessee    North Carolina"
That marker became important for surveyors and property boundary setting for years to come. Significant land disputes revolved around its location – disputes that involved lawsuits between major timber companies and fist fights among the proponents.
Some years ago, a concrete post with an embedded brass marker was placed by Park Service at the estimated location of the original Meigs Post. The brass button is now gone, and much of the concrete is crumbled away, but moss-covered remnants with rebar showing can still be seen alongside the Appalachian Trail, just west of the peak. Although I've seen the latter-day post (photo below), courtesy of excellent advice from Annette Hartigan, the helpful librarian at the Sugarlands who managed to find it herself and shared her information with me, there is some question in my own mind about the precise location of the original post.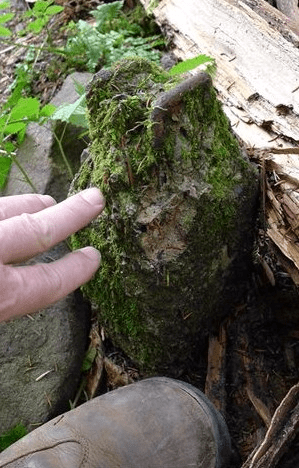 Remnants of the latter day (Park Service-erected) marker in the vicinity of the original Meigs Post.
It would be altogether fitting for me to dispute the location, because Mount Collins appears to be a spot of geographical disputations, one of which involved its very name. Horace Kephart lobbied for renaming Mount Collins for himself when the Great Smoky Mountains National Park was created. Kephart served on the park nomenclature committee, so had a unique inside track. However, Tennesseans objected, citing the fact that the peak had long been known as Mount Collins. Wikipedia, always reliable of course (tongue very much in cheek), says that the Tennesseans "favored their statesman Robert Collins over the North Carolinian Kephart." That he was a Tennessee statesman would be almost as shocking as the internet to Robert, who was born, raised, and lived almost his entire life in the state of North Carolina. The only claim that Tennessee has on him that I know of is that he died from pneumonia caught while overseeing construction of Forth Harry, near the Chimneys on the Tennessee side. Regarding the objection to the renaming – my suspicion is that infighting and rivalries between the two states had as much to do with the Tennessee objections as did a sense of propriety.
Kephart's name was ultimately given to a previously unnamed peak east of Newfound Gap which, ironically, had been mislabeled as Mount Collins in a map of the late 1800's. If I were asked to pick a peak to name for Kephart, this would be the very one to choose because of its complex and conflicted nature. On its east face is truly a "back of beyond" for which he searched – with a glorious view from the precipitous Jumpoff across the upper reaches of Porters Creek to the rugged Sawteeth and dozens of miles beyond.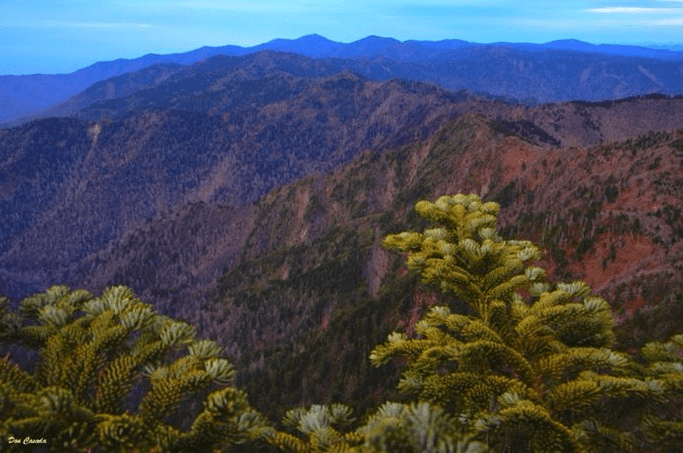 A view to the east from the Jumpoff of Mt Kephart. 
From its summit looking north is seen the frequently clogged commercial strip of Pigeon Forge (I have a photo of that, too, but it is too depressing to show). From its southern flank, near the aptly-named Icewater Springs shelter, is a view towards the place that I call home, Bryson City. I truly love walking that section of the AT in the gloaming and ensuing darkness of a cold winter evening. First is the splendor the setting sun, backlighting distant blue mountains and reflecting its final rays of day off of wisps of clouds hanging above Mount Collins and Clingmans Dome to the southwest – a too-quickly passing glory. Then it is from glory unto glory as innumerable stars whose brightness is undimmed by the sun and city light contamination speckle the sky.
But ultimately, I turn looking to the warm lights in the valley below, sheltered and hugged by strong mountain arms. They are lights of home that seemingly escaped the vision of a complex man whose tale of his search of a back of beyond was commercially influenced by, as Felix Alley phrased it, a need "to write books that would sell in the North."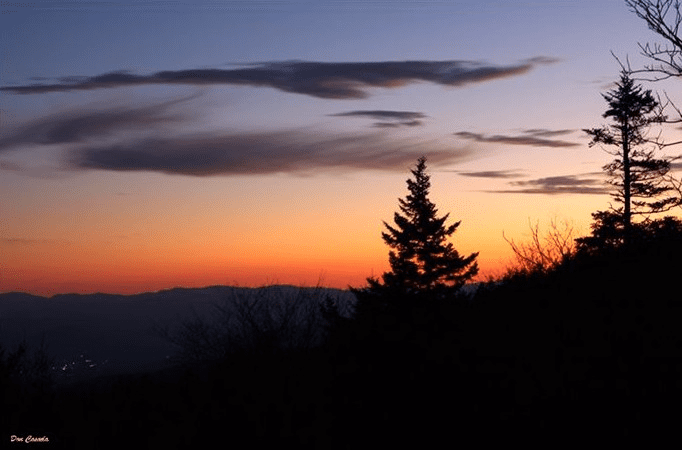 Sunset from the southern flank of Mt Kephart, near Icewater Springs. The lights of Bryson City can barely be seen at the lower left. 
Interestingly, Kephart had a Luftee connection. He was both befriended by and a friend to members of the Conner family, including Charlie Conner, grandson of Reverend W.H. and son of Dock. There's a rocky crag east of Mt. Kephart called Charlies Bunion, a moniker originated by Kephart. There are two versions of the actual location of the peak – there's a rugged outcropping which most tourists go to, but the view and solitude from the USGS version is far, far better in my view. Photos of each, with faithful Blind Pig admirers included, are shown below.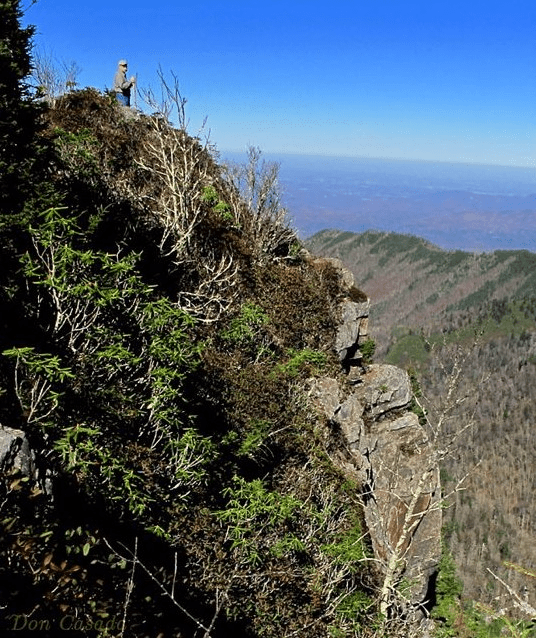 Lonnie Dockery, one of the Blind Pig's frequent commenters, atop the USGS Charlie's Bunion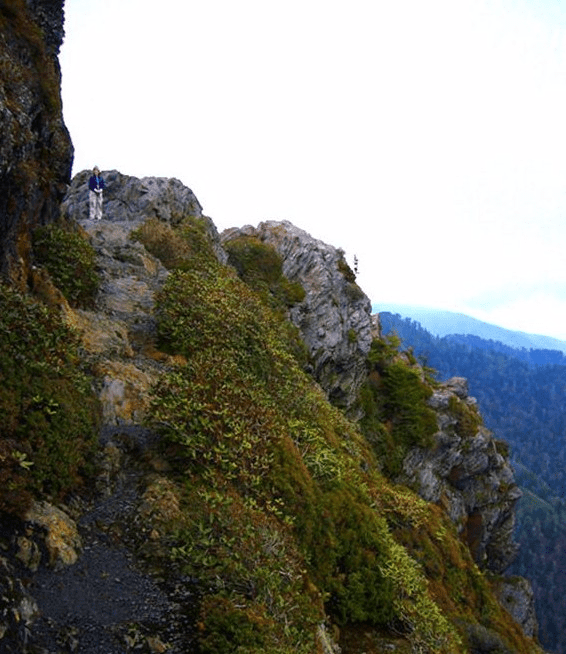 Susan Casada at the "tourist" version of Charlies Bunion
Collins Creek and the Collins home
Collins Creek flows into the Oconaluftee about 2 miles northwest of Smokemont, the location of the Ocona Lufta Baptist Church. Since Mount Collins is named for Robert, I believe that I'll insist that Collins Creek be named for Elizabeth. It is a pretty creek, with waters fed from the east side of the Thomas Divide between Newton and Nettle Creek Balds. Near its lower end there are suggestions of a water mill having once relied upon its flow to turn kernels into corn meal. A picnic area, open in the summer, has long been a favorite spot for Casada family outings, with a small branch offering a great place for kids to play and try to catch spring lizards.
The Robert and Elizabeth Collins family made their home near the mouth of Collins Creek, but as best as I can figure, the actual home site was on the opposite (east) side of the Oconaluftee River. Their home place was sold to the Reverend W.H. Conner about a half year after Elizabeth died by estate executors, J.T. Collins (their son) and H.J. Beck (Elizabeth's brother). Assuming that the Conners continued to use the same spot for their home – which I judge to be extremely likely – the location is easily identified and quite accessible, normally requiring about a mile round trip walk, including a crossing of the Luftee on a footlog.
The home sat on a leveled knoll about 400 feet from the river, with a yard decorated by yellowbells, boxwoods and periwinkle. Native walnut trees, encouraged by home owners, are still scattered about, and there was a fine garden area between the home and the river.  There is plenty of room to the south, east, and north for fields, and multiple small streams flow through the property, including one within 30 yards of the home. The Luftee turnpike, which Robert tended, can still be seen passing just below the home. It is truly a lovely setting.
From a personal standpoint, I am grateful that both a peak and a creek are named for an area family. I love the Park, but I have a hard time growing fond of spots named for politicians and park creation leaders. Give me places with names like Oconaluftee, Collins, Bradley, Kanati, Juneywhank, Tight Run, and Shot Beech. You can keep your Cammerer, Kephart, Chapman, and Squires.
After contracting pneumonia while doing Civil War duties in Tennessee (ironically, so did W.H. Conner – from a wagon accident on Deep Creek, as Tipper has previously noted), Robert died on April 9, 1863. His body was carried back over the mountain and laid to rest in the area that he had called home throughout his life. Elizabeth was buried alongside of him thirteen years later. Their graves sit atop a steep-sided knob in an area just north of Beck Branch (named for Elizabeth's family) – about a mile south of the Ocona Lufta Baptist Church. Their tombstone inscriptions read:
"He loved his church and died as he lived trusting in God."
"A loving wife and mother. A faithful Christian."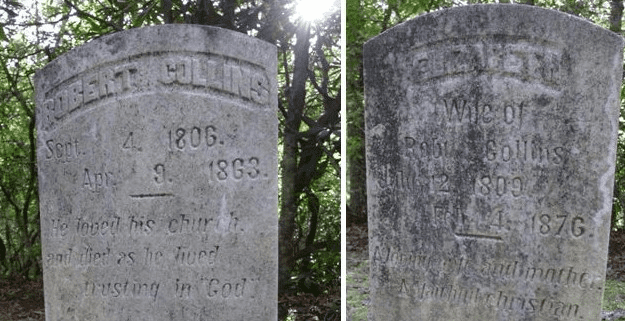 An interesting footnote to Elizabeth's marker could have been: "She never moved from the home she loved, but lived in three different counties." This section, which changed from Buncombe County to Haywood the year before she was born, changed to Jackson County in 1851, and then to Swain in 1871, five years before she died.
Is there a Blind Pig acorn buried on Luftee?
I wonder if there might be a thread that connects the Collins and the Angel of Brasstown and her Angelettes. Robert and Elizabeth Collins are laid to rest on property that was almost certainly owned by the Beck family when they were buried, but was owned by a man named James Wilson and his wife Lizzie at the time when the NC Park Commission took the land.  James, born in 1887, was the son of Thaddeus J and Mary P Wilson. Some Blind Pig readers may not have made note of it, but Tipper's maiden name is Wilson. I usually manage to find my way through the trees of the forest, but can find myself beyond bewildered in genealogical trees, so I'll leave it to some of her readers with the gift for genealogy to see if they can make a connection between her Papaw Wade Wilson and the Wilsons of Luftee.
For those who might be interested in visiting the Collins/Conner home site and the nearby W.H. Conner cemetery, feel free to contact me through Tipper and I can provide directions or maybe even tag along with you.
_________________________________
I hope you enjoyed Don's story of Robert and Elizabeth Collins as much as I did!
Tipper