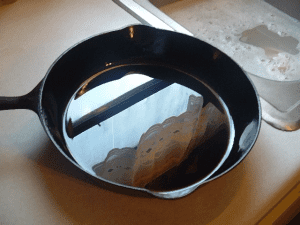 When I was growing up, most of our food was cooked in a cast iron frying pan. Oh Granny used sauce pots too, but her cast iron pans were used on a daily basis (and still are).
Granny has a whole set of cast iron pans that nest inside each other with the smallest one being no bigger than my hand. She's had them since her and Pap were first married.
Even before I ever thought about cooking, I loved those cast iron pans. From the largest one that's hard to hold onto with just one hand, down to the least one. The way the frying pans sit within each other always reminded me of a family, I think that's why I was drawn to them from such a young age.
The Deer Hunter and I use cast iron too. We don't have as many pans as Granny but we do have several sizes. We have other pans, but I prefer our cast iron ones.
Lots of folks complain cast iron pans are hard to cook in because they are too hard to get seasoned correctly. (a quick google search with show you all you need to know about seasoning cast iron)
I've found the more you use your cast iron pans the more seasoned/non stick they become. Granny's pans are unbelievably smooth.
Cast iron is inexpensive in the sense that it will likely last beyond your lifetime. Sometimes you can pick up cast iron pans for a couple a bucks at yardsales and usually even the rough looking ones can be brought back to life by the seasoning process.
Cast iron pans are extremely popular in Appalachia how about where you live?
Tipper
Appalachia Through My Eyes – A series of photographs from my life in Southern Appalachia.