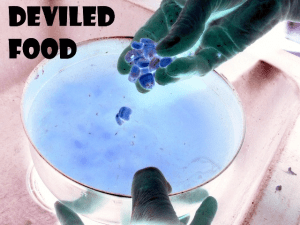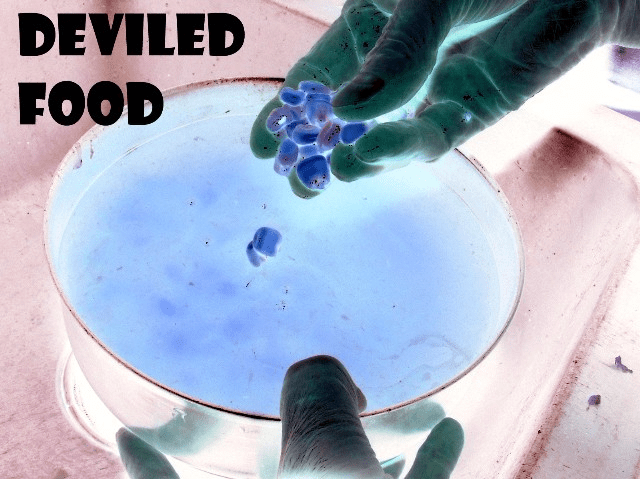 I never thought of deviled food in the sense that it was 'of the Devil' or spooky in anyway whatsoever. You know things like devil's food cake, deviled ham, deviled crab, and the king of deviled food-deviled eggs. Truthfully, I never thought about deviled food at all-except for the required thinking it took to perform the action of putting it in my mouth.
The Straight Dope website offers these historical tidbits about deviled food:
"The word "devil" as applied to food first appears in 1786, when it was used to describe a "(highly seasoned) fried or boiled dish" (references 1, 6). From reference 1:
Devil . . . A name for various highly-seasoned broiled or fried dishes, also for hot ingredients. 1786, Craig "Lounger NO. 86 'Make punch, brew negus, and season a devil.'"
"Deviled" as a word first appears in 1800, when it was used in the phrase, "At half past two ate a devil'd kidney" (reference 2). According to the Oxford Companion to Food,
Devil–a culinary term which . . . first appeared as a noun in the 18th century, and then in the early 19th century as a verb meaning to cook something with fiery hot spices or condiments. . . . The term was presumably adopted because of the connection between the devil and the excessive heat in Hell. . . . Boswell, Dr Johnson's biographer, frequently refers to partaking of a dish of "devilled bones" for supper, which suggests an earlier use (reference 3).
In America the use of "deviled" was known in the early 19th century:
Deviled . . . Any variety of dishes prepared with hot seasonings, such as cayenne or mustard. The word derives from the association with the demon who dwells in hell. In culinary context the word first appears in print in 1786; by 1820 Washington Irving has used the word in his Sketchbook to describe a highly seasoned dish similar to a curry. Deviled dishes were very popular throughout the nineteenth and into the twentieth centuries, especially for seafood preparations and some appetizers (reference 4)."

Oxford English Dictionary Online, 2nd edition, entries "devil (n)" and "devil (v)"
Oxford English Dictionary Online, 2nd edition, entry "deviled (n)"
Oxford Companion to Food, by Alan Davidson (1999), pp. 247-248
Encyclopedia of American Food & Drink, by John Mariani (1999), pp. 110-111
—-
Tipper
*Source: The Straight Dope