*Written on Saturday-May 26, 2012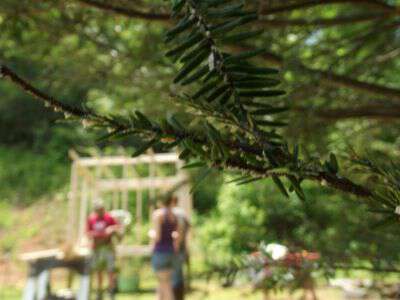 I am sitting in the backyard under the hemlock tree listening to Gene Watson blare from The  Deer Hunter's open truck windows. I am thinking what an amazing singer he is; I am thinking he sings the most romantic songs.
I am watching The Deer Hunter bang nails on new digs for our baby chicks while Miss Cindy hangs out clothes with Chatter's help.
I am tired from hoeing corn, plowing, and weeding beans.
I am impressed with 2 girls who work willingly alongside their Momma and Daddy without complaint.
I am thankful for Blind Pig readers who brighten my day; who give me treasures I can hold close in my heart and ponder.
Tipper