Today's guest post was written by Jim Casada.
FRANK YOUNG: AN ANGLER FOR THE AGES written by Jim Casada
With Memorial Day at hand, my thoughts turn, as they invariably do, to all the patriots who have served our country over the generations. Each of us needs to recognize and remember these men and women, not merely on Memorial Day but throughout the year. We owe them an incalculable debt and should never forget the sacrifices they made and continue to make.
With that train of thought in mind, I would like to pay tribute to one solider—a simple man of the Swain County soil who also happened to be the finest fisherman I've ever known. I first became acquainted with Frank Young when I was just a teenager. Fishing was my life during the summer, and day after glorious day would find me wading the waters of Deep Creek or one of its major feeders, Indian Creek. Both lay within hard walking or easy biking distance of my boyhood home, and their sparkling waters drew me in irresistible fashion.
My path seemed to cross that of Frank Young on an almost daily basis, and gradually we made the transition from exchanges such as "howdy" and "any luck today" to serious discussions of fly fishing. Frank worked at the same place as my father, Carolina Wood Turning Company, but he would hasten home when the whistle signaling the end of another work day blew at 3:30 p.m. He would hastily change clothes, rush to a nearby stream, and get in a few hours of fishing. Over time realization gradually dawned that he was a master angler, and with the eagerness of an eternally curious boy I constantly picked his brain.
Our friendship ripened, and eventually we would take fishing trips together, including one especially memorable backpacking trip in the Smokies. Frank was by that juncture in his life troubled with a bad heart, and in truth he probably shouldn't have made the arduous trip. Yet he enjoyed himself immensely and those days astream, along with four nights beside campfires talking and telling tales, were filled with magic.
Although I knew Frank had seen military service, it was only during this backcountry adventure that I learned he had been in action in both World War II and the Korean War. Clearly his experiences were traumatic, because he refused to talk about them—not just with me but even with his wife and stepdaughter. All he revealed to me was summed up in a single sentence: "Jim, I came home to fish, forget, and find my soul."
That's precisely what he did for decades, right up until his death. Year after year Frank averaged fishing better than 250 days astream. Week days he would be in the water from the time he got off from work until can't see, and often in the height of summer come can see he would get in an hour or so of fishing before heading off to work. On weekends Frank headed out into the backcountry, usually by himself, with the simplest of equipment. His "tent" was a sheet of heavy-duty plastic; his cooking kit a lightweight frying pan; his sleeping gear a single blanket; and his grub some salt and pepper, corn meal, lard, dried fruit, and dried beans or pasta. Mostly though, he relied on trout and nature's bounty in forms such as ramps, wild berries, branch lettuce, and the like for sustenance.
Even when it came to fishing gear Frank was a minimalist. Although he owned some wonderful bamboo rods (I am now the proud possessor of two of them), the gear he used was, not to put too nice a turn on it, basically junk. He had taken bits and pieces of fly rods picked up in junk shops or at flea markets and cobbled together his outfit. The reel he used was of the cheapest sort, and he made his own leaders and tied his own flies. Never a man who had much money, Frank was frugal and believed in using what worked—not what cost a lot of money.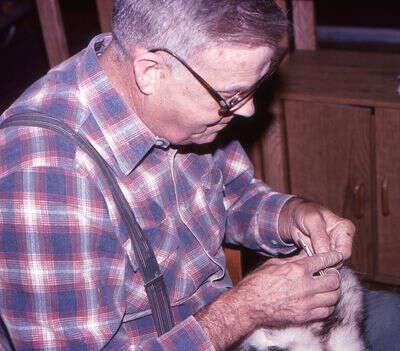 A great example came with some of the flies he tied. Certain types of popular tying material have always been expensive, and one of the priciest is "kip tail" –white hair from the tip of a calf's tail. Frank, in typical fashion, found a perfect substitute. Instead of using the high-priced, store-bought material, he turned to the hair from 'possum bellies. When he needed material and saw a recent road kill 'possum, he simply stopped and took what was available. Frank used to laugh as he showed a Royal Wulff, perhaps the most popular of all trout flies, tied with 'possum belly fur. "If you can't find plenty of this tying material," he would chuckle, "then you aren't driving mountain roads."
Of all the many things Frank did associated with fishing though, one stands out above all the rest. He always carried a capacious wicker creel with him, and it had uses beyond simply being a place to hold trout he caught. On day trips the creel functioned as a lunch bucket, but its most frequent use involved neither trout nor tucker.
Every time he went fishing, Frank kept an eye out for unusual or attractive sights. This might be spotting a turkey or deer, perhaps seeing a mink swim a creek or a beaver at work, enjoying blooming spring wildflowers or noting ripe serviceberries or blackberries. Or maybe he would catch a big brown trout or break off a good fish. It didn't matter what occurred. Anything which seemed special to Frank led him to pause, ponder, and reflect on the moment in a thoughtful, unhurried fashion. He was taking an active, carefully thought out approach to something all of us do, but not in quite so orderly or noteworthy a fashion. Frank was making and preserving memories.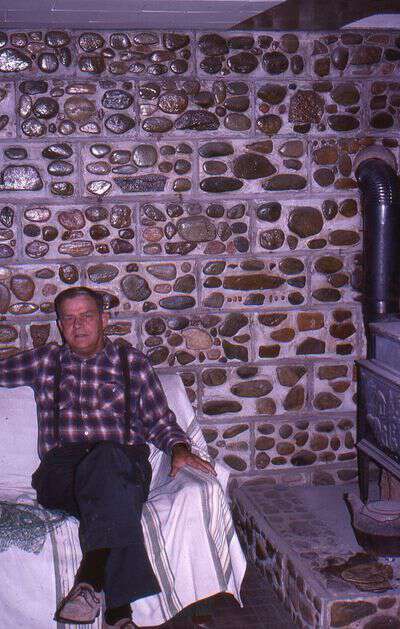 Whenever something noteworthy happened, he would immediately look around him in the stream and pick up two or three rocks which were particularly colorful, had unusual shapes, or appealed to him in some other way. Frank then placed these rocks in his creel, carried them for the rest of the day, and took them home with him. There he deposited them in a homemade frame the size and shape of a cement/cinder building block. When the frame was full to overflowing, he would rearrange the rocks, leaving those he found especially appealing sticking out or perhaps organized to make some type of design. He then filled the frame with cement, allowed it to dry, and set the resulting block aside. In that manner, rock by rock, block by block, Frank Young built a house which surrounded him with memories. To me it is a remarkable example of mountain ingenuity as well as a testament to one man's love of fishing, the mountains, and the good earth.
As a trout fisherman, Frank was simply the best I have ever been privileged to witness in action. He was a wizard with brown trout and had a special knack for catching trophy-size fish. He could cast like nobody's business, used all sorts of unorthodox techniques, and brought a keen analytical mind to angling. He was also a great fisher of men, or more specifically, boys. Although he never had children of his own, once he returned from the wars Frank devoted untold hours to Camp Living Water, a youth retreat originally founded by Reverend W. Herbert Brown as part of the Smoky Mountain Bible Conference. In fact, that is how I came into possession of the treasured bamboo rods mentioned above.
Somehow my eyes caught a tiny classified ad in the Smoky Mountain Times offering the two fly rods for sale. Intrigued, I called the phone number, which I thought looked familiar. When Frank answered and we had talked for a few moments, I asked: "Why in the world are you selling those wonderful fishing rods?" His response was a moving one to the effect that he didn't need them but that a couple of projects at Camp Living Water could sure use an infusion of cash. I was more than happy to buy the rods not only as cherished angling items but also because of the wonderful man they came from and the use to which he put the payment.
Frank Young was not perfect—far from it. He had a fierce temper which he battled mightily(and for the most part, successfully)to control. He was haunted by untold demons from the war years, at times he harbored suicidal thoughts, and he could be mulishly stubborn to a degree only someone equally obstinate could understand. A case in point was our protracted argument about whether or not the so-called "Road to Nowhere" in the Great Smoky Mountains National Park should be built. Frank felt that the government's 1943 promise should be honored. While I sympathized with his vexation over the broken agreement and the wrongs the government had wrought, my view was that constructing the road would be an ecological disaster with one of its biggest negatives being the manner it would affect some of Frank's beloved trout streams.
Frank persisted in bringing the matter up almost every time we saw one another, and it became a sore spot in our friendship. Finally I called him on the issue. "Frank," I said, "you aren't ever going to change your mind and I'm not going to change mine. Why don't we just agree to differ and drop the whole issue?" For a full 30 seconds I thought he was going to explode. His face reddened and an uncomfortable silence screamed. Then he sort of shrugged his shoulders, shook his head, and stuck out his hand saying: "You know, Jim, for once you are right on the Road to Nowhere. We'll speak of it no more." And we didn't.
If the measure of a man comes in accumulation of wealth or in widespread renown through recognition of grand achievements, Frank Young didn't amount to much. Yet to me he was a great man—a patriot and member of the aptly named "greatest generation," a mountain fellow of peculiar yet manifest genius, an individual with an abiding love for the high country, a person with a warm and caring heart, and an angler for the ages. Never do I set foot in a trout stream when I don't think of him and all the lessons he taught me by example and through quiet instruction. In this Memorial Day period I thought others might enjoy sharing a bit of the saga of a splendid son of the Smokies.
Jim Casada
———————–
I hope you enjoyed Jim's post as much as I did!
Tipper