Today's guest post was written by B.Ruth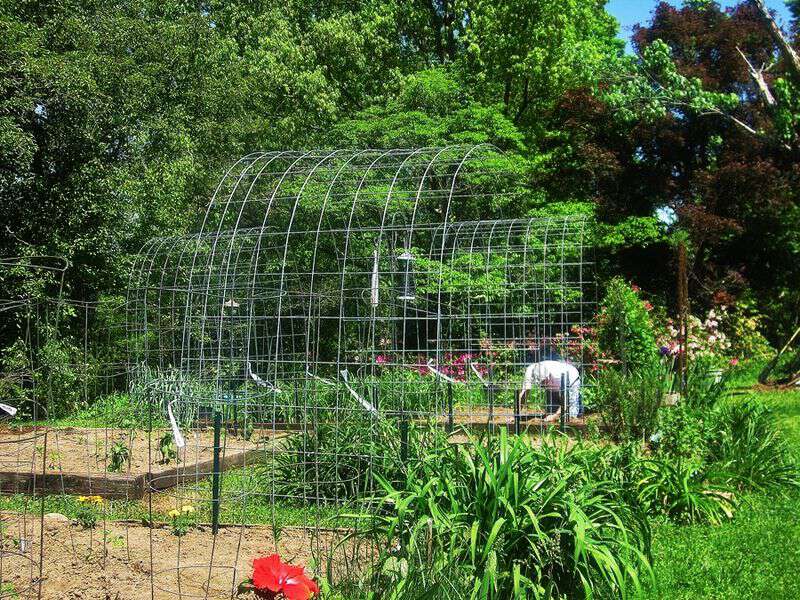 Here is Roy on hands and knees, putting in for me, the small row of Specialty cucumber "Richmond Green Apple", we are thinking of putting a little arch chicken wire for them to run up and on, but the package says they are compact so we will have to wait and see…On the arbor in front of him we planted "Suyo" the long green Asian cucumber…The Marketmore cucumbers we got from you/Sow True Seeds will go in the big garden, where they get fairly large and run…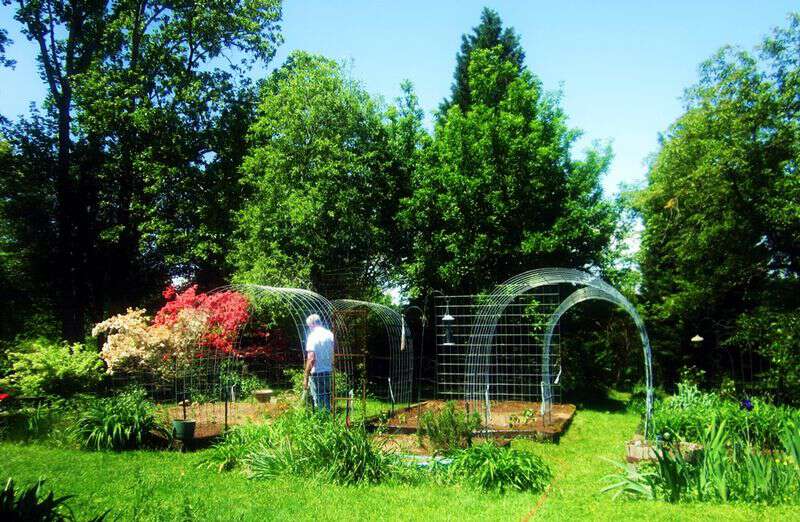 The tall trellis in the back of the middle bed is for my Moon Flowers and Blue Morning Glories that I generally grow there every year or sometimes Scarlet runner beans for the hummingbirds. In front of those we planted 6 squash, yellow straight neck and zucchini…we love squash. I would like to plant a few crookneck. We have Marconi peppers, Green bell peppers, Gypsy peppers and a couple of jalapeno peppers…We also have in the roadside bed our tomatoes…and small tomatoes. We have Black Krim, Sun Glow and Sweet 100's this year as well! I always plant Marigolds in my garden with veggies to help keep down critters..bugs..etc.
The other trellises up front have Kens beans and Rattlesnake beans on either side…One trellis up front has Asparagus beans (yard long beans) they have to be soaked and are slow to germinate. They are supposed to be crispy and tender when stir fried. We also have two trellises of Kentucky Wonders…We can't wait to see the difference in the growth of these beans in comparison since we will have them close together to watch. Roy does plan on making some T-pees for some more beans in the bigger garden…along with the taters and onions and okra.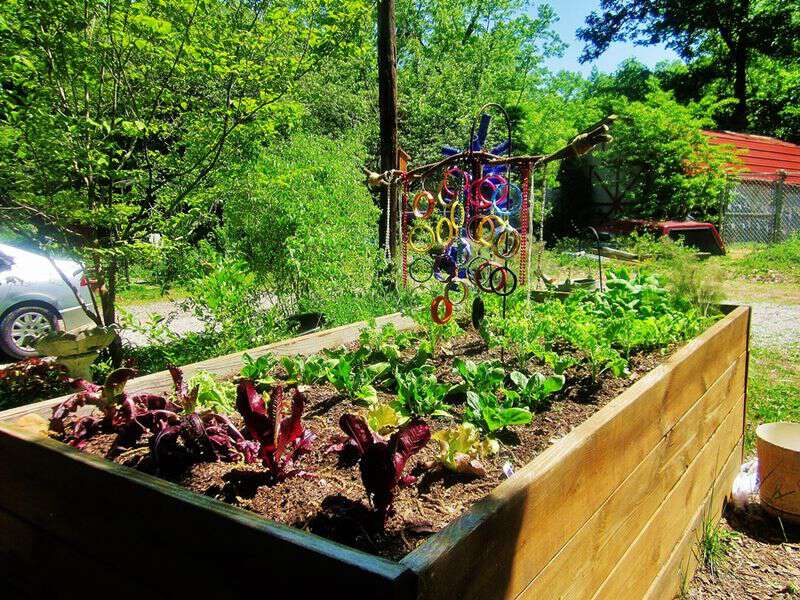 This picture is of my permaculture bed…the thing hanging in the middle is a "deer startle" that I made out of old plastic bracelets and and necklaces that are left after I buy out someone's jewelry for crafts. Yes, I designed it myself…(can you tell) but it seems to be working, it makes a knocking sound when the wind blows…Roy said, "What in the heck is that thing?" But when we got it up, he said "It's different and it might work!"
I have red lettuce, green bib lettuce, spinach, kale, red and green radishes/ On either end I have Fennel plants that overwintered so I left them and a front row of Verbena for the hummingbirds.. Roy is going to build me another bed like this one. I don't have to bend over to work these, I'm not really supposed to bend I think it is 90 degrees..?…after my hip surgery…
———————–
I  hope you enjoyed peeking into B.Ruth and Roy's garden as much as I did. How cool is that deer startle? Looks like an art piece but has a practical side too.
Tipper