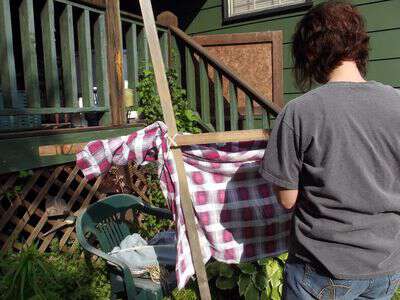 For the last few years, the girls and I have been in charge of making a scarecrow for Pap's big garden. Since Steve's house is closest to the garden, he's in charge of crow patrol-but he can't be on duty 24 hours a day-so having a scarecrow helps.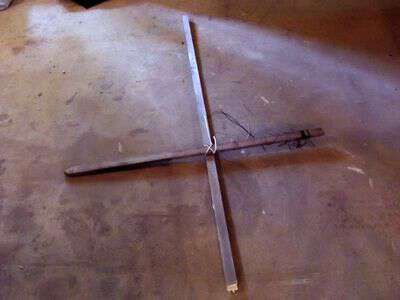 First we went out to The Deer Hunter's scrap lumber pile and found 2 pieces of wood. One was an old 3 ft long garden stake-the other a 6 ft long piece of 2×2 trim. In past years we've used small saplings from the woods-they also work well.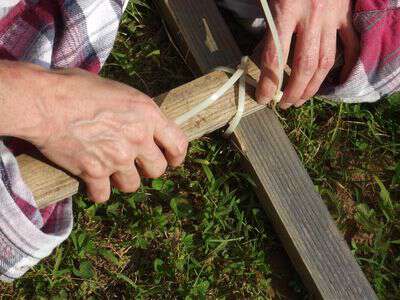 We secured the 2 pieces of wood together to make a cross-with 2 zip ties. Zip ties are like duct tape they work for everything! If you'd don't have zip ties-you could use string or twine to tie the 2 pieces of wood together. The cross portion of wood-should be fairly high up on the straight piece of wood-think arms in relation to head.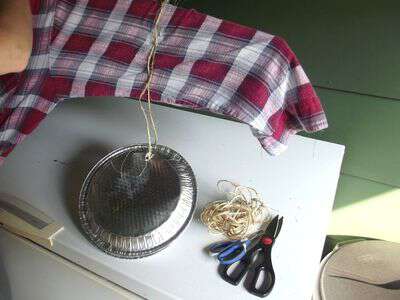 I had an old worn out pair of The Deer Hunter's pants-but no shirt. I called Granny and she said she'd find me one of Pap's old shirts. So we moved the scarecrow operation down there.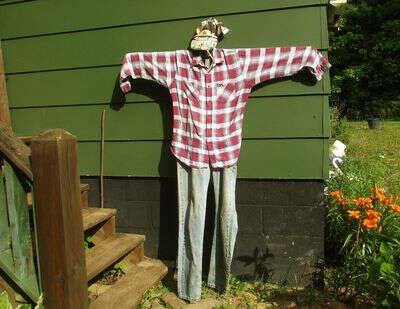 After I put Pap's old shirt on the scarecrow, I put the pants on. I put one leg of the pants over the bottom portion of the cross-and the let the other leg hang empty. Then I safety-pinned the pants to the shirt. I also zip tied a hat to the top of the stick above the shirt collar.
If you wanted to-you could stuff the shirt and pants with straw, hay, leaves, fabric or whatever. We're mostly on the skinny side around here so we figure the crows are used to seeing thin folks in the garden. You could also add some sort of head if you wanted too-but a hat works well for us.
It had been thundering around all evening. Granny kept warning us a storm was coming and we needed to get inside. Chitter kept telling her the storm was going around us-but Granny was having none of that. She finally put her Granny foot down and ordered us on the porch NOW.
We tied 2 tin pie plates on each arm. First we made holes in the pie plates, then we attached 2 together with a piece of string-making sure to place them top to top-so they would make more noise when they blow around. Then we made a small hole in the arm of the shirt to thread the string through before tying it off around the arm-that way the noise makers are more securely attached to the scarecrow.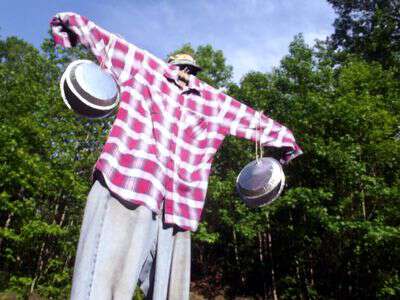 By this time-Granny had been proved right-the hail on her porch roof drove us all inside leaving the scarecrow to be put up the following day.
Tipper