Today's post was written by Paul.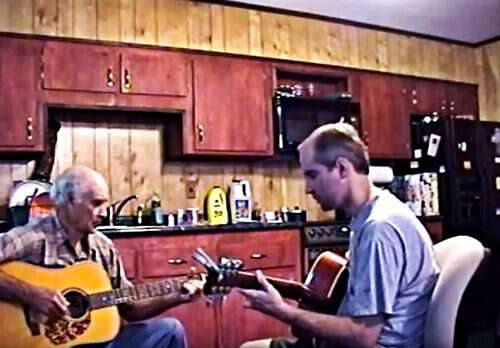 For many years, Pap told me about one of his favorite duets, the Webster Brothers. I could never find anything by them for the longest time, though I searched online and through record suppliers like County Sales.
Finally, in 2006, a CD was released called "Carl Butler and the Webster Brothers." I found it online and bought it. It made sense that the Websters sang some with Butler because he was one of the key figures of the Cas Walker Radio Show, which is where Pap used to hear the brothers sing.
When I first heard them, I could not believe how good the Websters were. This CD featured some duets of them and several trio numbers with Butler (see links below). At the time those Butler recordings were made, the tenor singer was only 19 years old and the lead singer only 20, making their singing even more impressive. The great Don Helms played steel guitar for them; there was an exceptionally good fiddle player; and one of the brothers was an excellent mandolin player.
This song in this video was one of the duets on that Butler CD.
Though Pap and I loved everything they recorded, we never made any serious attempts to sing any of their songs (other than "Thank God for the USA," which can be found on our channel). However, Pap taught the Pressley Girls (my nieces) one of the Websters' gospel songs called "Glory Mountain." You can see an old version that goes back before either of the girls could play an instrument or sing harmony (https://www.youtube.com/watch?v=zJG9W…). Today, they really do this song justice with harmony and fiddle. I'll have to get them to film an updated version.
Anyway, with the song in this video, you can tell we were just fooling around with it (I didn't really know the words). Although this is a country song, I think it may have given Pap the idea for the title for one of his gospel songs ("It's All Up to You"), which appeared on the CD Shepherd of My Soul.
Perhaps around 2012 or so, 10+ other Webster songs became available through iTunes. The Websters can now be found on Spotify and other music sources. In searching tonight, I discovered that even more of their music has surfaced, including another album/collection on a label called Stomper Records. I'm excited to listen to some of these tunes that I've never heard before, like gifts from the past. I wish Pap were here to listen to them too, but there's a good chance, he may have heard them back in the day before the Webster music became lost.
If you love close harmony duets, like the Louvins, you've got to check out the Websters. When their music resurfaced, music critics were blown away by their version of "Seven Year Blues," which some say surpasses the original Louvin cut–and they were amazed by their version of "Angel Band," which it turns out preceded the Stanleys' recording by a couple of years. They also were the first to cut some Flatt and Scruggs standards like "Till the End of the World Rolls Round."
Pap also used to tell me about his fondness for the Wooster Brothers, but I still haven't found any trace of their music. Adding to the confusion is that there was also a set of brothers called the Brewster Brothers, and believe it or not, the Webster Brothers sang with them in a quartet, providing the tenor and bass, along with some lead. This quartet stuff can now be heard on YouTube.
This video of "It's All Left Up to You" isn't that great, but maybe it can turn some folks on to the lost music of two brothers who should have been super famous (in my opinion). 🙂
There's plenty of the Websters to be found now on YouTube. Here are some links to get you started:
https://www.youtube.com/watch?v=lsOLl…
https://www.youtube.com/watch?v=QO6lR…
https://www.youtube.com/watch?v=06Gsc… (with Butler)
https://www.youtube.com/watch?v=NtsZ5… (with Butler)
https://www.youtube.com/watch?v=zwSjG…
I hope you enjoyed the video and Paul's post. I don't care what he says-I think they did a super job on the song even though he didn't get all the words in!
Tipper
Subscribe for FREE and get a daily dose of Appalachia in your inbox