Today's guest post was written by B. Ruth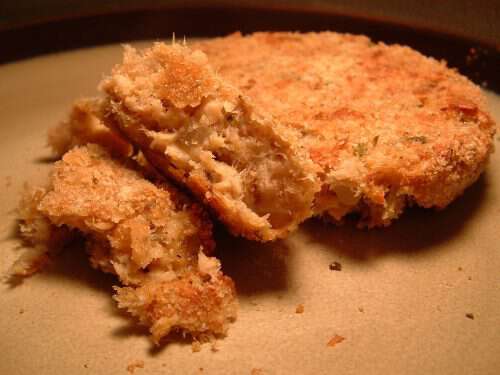 For salmon patties you need one large can Alaskan Pink or Red Salmon…large meaning 12, 13 or 15 oz can. What ever they have decided today to sell us.
It comes in a red can…used to be .79 cents now it's closer to two dollars.
Open the can and drain juices into a bowl, reserve the juice….In a medium bowl place salmon.
Do not look if you cannot stand to see the grey and silver skin (looks shiny slimy but not) that sometimes is apparent on the fish.
Also as you spread the salmon apart with a fork, do not look if you cannot stand to see little white round bones hooked together (like a chicken neck) in the fish..(they are pressure cooked until soft as air, don't worry!)
Do not take these little round bones out of the fish they will not hurt you!! They will help you to grow up to be a big girl or boy and will make you strong with big muscles or tall like a model so you can be rich like a movie star, etc., etc..
While hanging my nose over the bowl I saw these bones one time…I asked about them, got the answer above….I wanted to see one up close, so Mom fished (pun) one out of the bowl with the fork and gave me to inspect.
I held it in my grubby little fingers and it immediately crushed into a zillion pieces.
"See, the bones are soft, and they are just fine in the fish" she said.
My mind wondered and pondered about just how good they were to eat if they fell apart like that. There was something fishy in Moms strong bone theory!
Back to the recipe…
Mash the salmon around a little and add one egg…(this is your binder to hold the patty together as well as to stick it together with the upcoming flour.)
I just crack it and toss it in…
Add some chopped onion…about ¼ " size or smaller. However much you like.
Add some chopped bell pepper…about ¼ " size or smaller. About the same amount as the onion. I keep chopped red and green bell pepper in the freezer for cooking all the time.
Growing up we didn't always have bell pepper so it was used only when we had a garden or some left over.
Back then Mom never froze bell pepper. I don't know why. There were all these rules about blanching every little thing, so that may have been the reason…
Add salt and pepper but I usually just add black pepper…you could add a little crushed red pepper flakes if you like hot stuff. Always ask for crushed red pepper flakes when ordering out pizza, they always come in handy. Perfect little packages for times like these.
Stir this all around until mixed…Start adding a little flour, either self-rising or plain and keep adding until thick but not like biscuit dough more like drop biscuits.…if you need to thin it again add a little of the reserved liquid from the fish. Mom would eventually add all the liquid back…because those were the vitamins she said that she poured off and they must go back in. I think it was an excuse to add more flour and of course that stretched the salmon patties. Just like oats or bread stretches the meat loaf.
Get the iron skillet…or whatever frying pan you use.
Put a little lard, shortening or oil…Now days I just use Pam or a little oil. Don't float or drown them. They sort of bake fry on top the stove.
Drop by spoon full into the skillet, push down with your tablespoon, it will round out itself. Cook on one side, flip and cook on the other until good and brown on both sides. You can tell when they are getting done. You can see the onion will be clear. I think they are better cooked started hot and then turned down and cooked slow. I usually cream my potatoes right before they are done and stir the green beans or vegetable mix. It all comes together quick and can sit and wait until everybody is home.
When the kids come in from school and take a whiff and say, "Oh no Moms cooking fish patties for supper." Just repeat story above. You could add my Moms favorite, saying,
"Fish is brain food and it will help you pass your test tomorrow".
Written from memory of my youth and my experience raising my boys…
PS….My husband said they ate so many salmon patties (8 kids) that when he went fishing he actually thought they lived in the TN river and he could catch them…
B. Ruth
——————–
Hope you enjoyed B.'s recipe, thoughts, and memories about salmon patties. Leave her a comment and I'll make sure she reads it!
Tipper