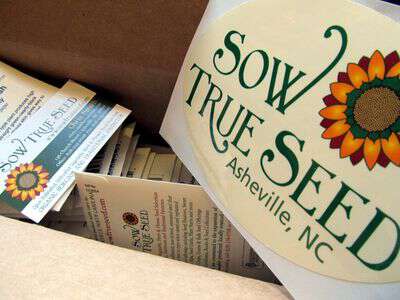 Back in February, 16 Blind Pig readers volunteered to be deputized as Blind Pig & The Acorn Squash Reporters @ Large for Sow True Seed.
Sow True Seed is always looking for feedback about their seeds. You know things like plant growth, production, and most of how those home grown vegetables and fruits taste.
Each of the @ large reporters deputized will receive their preferred varieties of squash seeds by mail. Once the weather in their area allows-they will plant the squash seeds and see how the varieties turn out. Each participant will report back to me so I can share their findings with Sow True Seed and with you. Hopefully the @ large reporters can snap a few photos-so we can have a visual to go with their reports.
If you signed up to be a Blind Pig & The Acorn Squash Reporters @ Large-be on the lookout for your seeds. I mailed them on Thursday-March 27. You may notice some of the seeds were marked for 2013-that's one of the reasons Sow True Seed was able to be so generous with their donations to the Blind Pig. I don't think this will affect the outcome of the squash plants since I've had success with seeds older than that before! Nevertheless, there are ample amounts of seed to ensure sufficient germination. In addition, many of the seeds are marked for 2014.
Here in the mountains of Western North Carolina we're still a ways away from planting squash-but I'm getting excited just thinking about it! And I can't wait to learn more about the varieties grown by the @ large reporters.
Tipper