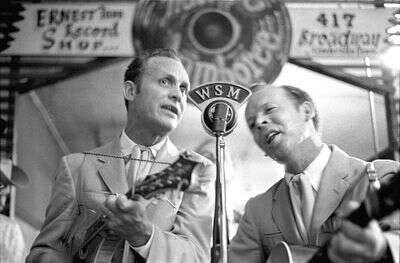 It's hard for me to pick a favorite Louvin Brother's song but Seven Year Blues would certainly make the top 10 list. In Close Harmony: The Story of the Louvin Brothers written by Charles K. Wolfe has an interesting quote from Charlie Louvin about the first Decca session the Louvins ever did which included the song Seven Year Blues.
"We cut that session in eight or nine minutes. We'd waited out in the hall [of the Tulane Hotel]. Lonzo and Oscar [an Opry comedy duo] were in there recording and having all kinds of problems getting their song all together. And we went in, after waiting until three o'clock in the morning for the studio. Went in and started the session and went straight through it. We were cutting from a microphone straight on to a disc. The first one we cut, they accepted. Of course, I'm not saying it couldn't have been better. But we cut it on the first take, then went on and did the same thing for "Seven Year Blues." Ira and I had been singing it so much we knew it forwards and backwards and sideways."
Recording the complete session in 8 or 9 minutes is beyond impressive. I'm pretty sure the Blind Pig Gang could never manage that. Pap is always telling us Roy Acuff claimed if you start a song more than twice you just need to quit! And let me tell you there are plenty of times we start a song more than twice only to have it still fall off the tracks before we complete it.
Pap and Paul did manage to finish the Seven Year Blues with some throat clearing and yawning along the way. Check it out and see if you like the song as much as I do.
I hope you enjoyed the song. I love the mournful tune and words, but mostly I love how the high tenor highlights Pap's voice much like it did Ira Louvin's.
Tipper
*Source: In Close Harmony: The Story of The Louvin Brothers written by Charles Wolfe.