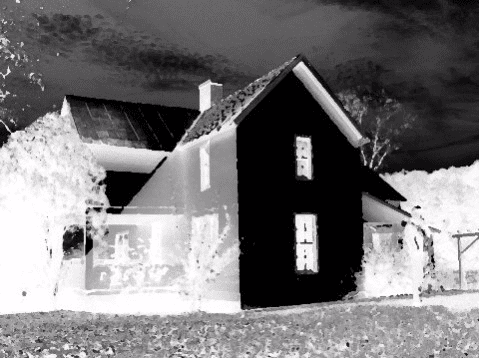 Last weekend-Chatter and Chitter played the role of 'Alice' in The Learning Center!'s annual Monster Mash Maze. It was a little spooky-but mostly lots of fun for kids and adults.
As you go through Halloween mazes or haunted houses-part of the fun is knowing you're going to be scared-knowing someone may touch your arm, grab at your leg or jump out and scream-it's all part of the game.
But have you ever been to a house or place that scared you-even though it wasn't supposed to? You know-when you get the feeling someone is watching you and the little hairs on the back of your neck all stand to attention.
A few summers ago, the Blind Pig family-along with Miss Cindy were out for a day of yardsale'ing. We didn't have a particular area in mind-we were just working our way around the county, following whatever sale sign we saw along the way. I like all yardsales-but I get excited when I see one at an old house. I'm always hoping they'll be selling some of Mamaw or Papaw's old treasures and I can get a deal on them.
We were riding along a back road just off the main 4-lane that runs through Murphy when one of the girls said "look there's a yardsale". As The Deer Hunter pulled into the driveway I was tickled pink-cause it was a BIG OLD house-and they had stuff spread out everywhere-I barely let the wheels roll to a stop before I shoved Chatter out of the backseat and jumped out beside her. I just knew there would be some old canning jars-a quilt or something just for me.
I begin to walk around and immediately got an eerie feeling-I found myself glancing up at the old house fully expecting to see someone watching me from a window, but no one was. The yard was full of other folks shopping for stuff too-yet I could not shake the bad vibe I was feeling-those little hairs on your neck I was talking about-they were all at rapt attention as I circled the yard one more time. I felt like charging for the car-dragging both girls with me. I managed to walk-not run-back to the car. The others were already there waiting for me. I wasn't going to say one word about getting spooked cause I felt silly about it-but as soon as we pulled back onto the main highway Miss Cindy said "well I'm glad to be gone from there" and The Deer Hunter said "me too." I said "you felt it too?" We all agreed-something wasn't right at that old house and we certainly didn't ever want to go back to it.
So what did we feel? And why? Maybe something bad had happened at the house-maybe something bad was going to happen at the house? I have no clue.
Have you ever got a spooky feeling about a place?
Tipper