I'LL BE HOME FOR CHRISTMAS written by Don Casada
For about a decade before I was born until in my mid-20s, Grandpa and Grandma Casada's home was an old two-story frame house with white asbestos siding situated alongside the Tuckasegee River.  The house still stands, modified in color and shape, across from the upper end of the Bryson City Island, just above Devil's Dip, and opposite the mouth of Deep Creek.
Other than the week or two that I stayed with them in the mid-1950s (when Mama and my sister Annette had pneumonia) most of the time I spent there was when family members from out-of-state were here to visit.
Playing hide-and-seek around the house with cousins, the lovely distinctive aroma of the butterfly bush alongside the shed, clucking of chickens out at the end of the garden, dark coolness of the can house cozied into the bank out back of the kitchen, rocking chairs on the front porch and fishing for knottyheads and the occasional bream or catfish in the river with cousin James are some of the unclouded memories of the time and place which rest easy on my mind.  These are mostly summer recollections.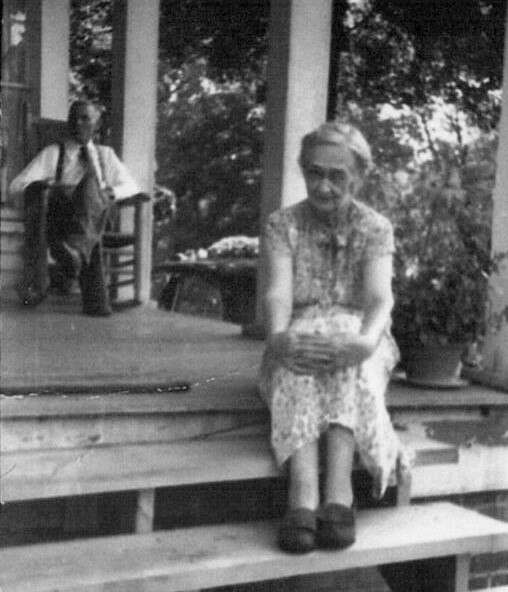 Joseph Hillberry and Minnie Price Casada on a Sunday afternoon, around 1960.
(courtesy of cousin Carolyn Healy, daughter of Jessie Casada)
The time of year which I most associate with Grandma's and Grandpa's, however, is Christmas.  The passage in I'll be Home for Christmas which goes "Christmas Eve will find me where the love light gleams" fits my memories of Christmas Eve at their place to a tee.  You'd sometimes need all your fingers, toes, ears and nose to number those from four generations who gathered there on Christmas Eve evening.  We'd all crowd into a living room which had a bay window (you can see a bit of it on Grandpa's right in the picture above). The Christmas tree, often decorated by my sister, Annette, stood in the bay window area and was surrounded by a bench on which the young'uns liked to sit.  Br'er Jim made an astute observation recently concerning that room – it was twice as big when we were youngsters as it is now – although its physical dimensions are unchanged.
Socks, peppermint sticks and twists of tobacco
There was a pair of constants that I recall when it came to gifting at Grandma's and Grandpa's.
Grandpa always gave the grandchildren and great-grandchildren (whether boy or girl) a pair of socks.  Now socks are not at the top of the wish list of a growing boy, or a girl for that matter.  But those socks are as strong in my memory as gifts which were more to my liking at the time.  My sister recalls that the parents of the children saw to it that they said "Thanks, Grandpa" just as if it was something they'd really wanted.
Cousin James also recalls getting one or two of those soft Red Band peppermint sticks at Christmas.  They come in boxes now, and they did then as well, but I have it in mind that they were also – like cookies –sold individually out of a jar on the counter at Myers Grocery.  The buyer could reach in and get what he wanted, then have it put in a small brown paper bag.  My recollection is that is how Grandpa carried his peppermint sticks
I didn't get peppermint sticks from him at Christmas, and there's a story behind that.  Sometime much earlier, Grandpa had walked across town (his standard mode of travel – neither he nor Grandma ever owned or drove a car) to visit us one Sunday afternoon. I was still a youngster, but old enough that both Jim and Annette were gone to college.  Before he started to take a seat, Grandpa pulled a brown bag of peppermint stick candy out of his pocket and held it one out to me.  Daddy quickly nixed it, saying "Why, there's no telling who has had their hands on that."  Well, that was that. But then again, it wasn't.  Another chapter to that story would be written, and Grandpa was the author.
On the receiving end at Christmas, Grandpa delighted in an annual gift from my father – a twist of store-bought tobacco – a twist which would shortly thereafter encounter the business end of a Barlow knife (though I don't recall him taking a chew while we were all gathered).
But one twist of that tobacco was the pen with which Grandpa wrote the final chapter of the peppermint stick story.  I've asked both br'er Jim and cousin James, and neither of them got the kind of offer which I was to receive.
I'm fairly sure that it was a winter day, but an unexpectedly warm one – maybe one of those late February days when the first hint of a loosening of winter's hold comes along.  Grandpa had walked over to the house, and it was warm enough that we were sitting out on the front porch talking (well, the adults talking; I was half-way listening).  The talk idled for a bit, so Grandpa reached in his pocket and pulled out a twist of tobacco.  He cut off a chew, and started to raise it to his mouth.  But halfway there, he stopped, turned, and offered it out to me.
Although I had no clue at the time, as I look back, I am 100% confident that even though it was held out in my direction, I wasn't the intended recipient of the gesture.  Daddy was the target.  Now I don't mean that Grandpa meant to offer the plug to him; rather, thinking back on the peppermint stick nixing, Grandpa's offer was made to enliven the conversation.  As probably only my siblings and a few of my cousins could fully appreciate, Grandpa was altogether successful at stirring some discussion.  Daddy's string having been yanked and his bell rung, with a twinkle in his eye, Grandpa retracted the offer and put the chew where he'd always intended it to go, in his own mouth.  Now I don't recall ever hearing Grandpa laugh aloud, and in fact don't even recall a full smile.  But there was more than the inserted chew of tobacco which raised the grin on his face that warm winter day.
The Casada family home
Grandma's and Grandpa's house was the place which, as a child, I always thought of as THE Casada family home, and particularly at Christmas.
However, I don't think it ever was THE Casada home for my father.  Joe, Minnie and their litter lived at a slew of places in both Clay and Swain Counties before settling at their final home on the river – a home which their children bought for them.  Although Grandpa lived there for a couple dozen years and Grandma for three dozen, and in all that time it was a central gathering point, another home place held the position of being THE Casada place in my father's heart.
It was the place where many of his strongest and earliest memories took shape, and it is to this place where a few of the family and I intend to go to be home for Christmas.  If you want bit of exercise, come go with us!  If not, here's a bit about the place.
The Juneywhank Jewel
We're heading for the upper end of Juneywhank Branch, a feeder of Deep Creek in the Great Smoky Mountains National Park which is primarily known for a lovely waterfall near its mouth.  The name derives from a Cherokee man; the "June Whank place" is mentioned in early area deeds.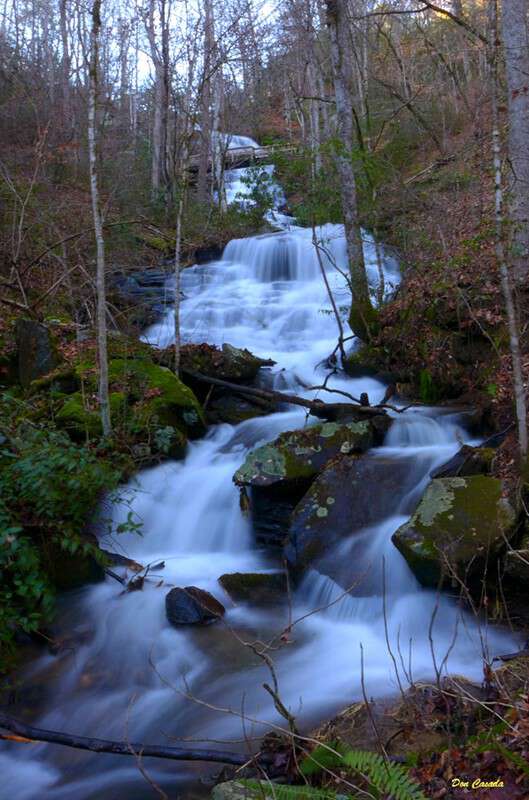 Juneywhank Falls
The cabin, barn, corn crib, chicken house, hog pen, and springhouse which were part of the homestead haven't been used for over 85 years.  In fact, those structures have completely vanished – gone with the wind.  You wouldn't even know where they were unless someone – who had been told themselves – filled you in.  Former field, orchard and pasture are mostly indistinguishable from the general woodland on these upper reaches of Juneywhank Branch.  We have no picture of the place when it was lived in other than that painted verbally by our parents.
I've been to the home dozens of times over the years but never tire of going back.  Below are a few characteristics of the place as seen through my eyes, but primarily some recollections passed on by my father and his siblings.
– Drinking and cooking water came from a fine rocked-in spring about 50 feet from the house.  The spring also fed the springhouse.  Its water is the stuff of a toast to forebears on each visit.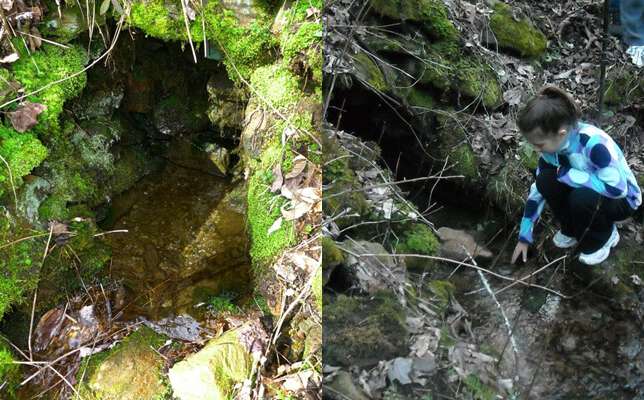 Rocked-in spring at the home place; Ashlyn Getway, Commodore's great-grandchild
– In lieu of an outhouse (of which there was nary a one) the family used the woods (of which there were plenty).
– The home was the last of four up the branch, and was smartly-sited. It was protected from the worst of winter's winds by the lower end of the Noland Divide, located at the head of a hollow which angles to the southeast to catch the warmth of the early morning sun, but it was also shielded from ol' Sol's rays on dog day afternoons by a tree-lined ridge on the west.  It had been a home place long before my grandparents moved there in 1915, and was perhaps the location where June Whank himself once lived.
Day lilies, mock orange and japonica (flowering quince) were planted next to the home, and today are the primary indicators of where the home once stood.

Juneywhank Japonica and Mock Orange
– The boys (Commodore and Hall) stole drinks of their Mama's buttermilk which was kept cool inside the springhouse on hot summer days.
– Rocks cleared from the fields were made into rock walls for terracing and erosion control.  The section in the photo below is part of a 160 yards long wall which guarded the upper fields from heavy rain runoff.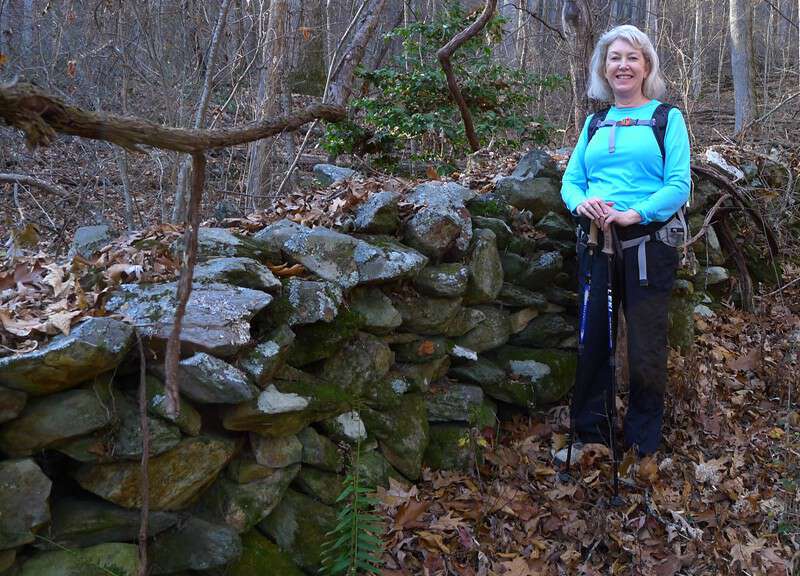 Susan Casada at rock wall above the fields
– The two-room log home included a laddered-loft where the boys slept.
– It was in that loft where excessive consumption of green sheep-nosed apples gave my father a nightmare in which he saw the boogerman come sneaking through an open shutter into his room.  He cried out for help from his Papa, causing his younger brother, Hall – who was obviously having a nightmare of a different sort – to bolt upright beside him in bed, scratch his stomach, swivel his head this way and that and holler "which rock, which rock?"
– Heat for the warming of people and the cooking of food came from a fireplace with a double-eared lintel shaped from the rim of a wagon wheel.  The lintel supported the mud-chinked stones above and also provided a suspension point for pots hung below.  After doing double duty for decades, the lintel piece rests in its retirement and greets me every time I walk in the door of our home.

Wagon wheel lintel (just under four feet wide); this was a very common lintel configuration in the area
– Cooking and heating fuel was first sawn with a two-handled cross cut saw manned on one end by a well-traveled 37-year old Joseph Hillberry Casada who had survived scarlet fever – though perhaps not completely intact – and on the other end by a 6-year old Commodore who said that he mostly just went along for the sawing ride.  By the way, Commodore was my father's given name, not a rank.  He had an uncle with the same given name.
– The third girl in the family, Annie Jo found a knife with a broken-off blade in the branch which my father, who wanted a knife of his own in the worst way (more on that below), diplomatically called a "pretty good knife."  Annie's response was "No, it is a pretty, pretty, pretty good knife."
– The lady of the house, Grandma Minnie, small in stature but large in gumption and quick thinking, used a hoe to chop the head off of a copperhead which fell from the rafters near her baby girl, Emma Mildred.
– Ashes of Emma's next older sister, Jessie Patricia – the first of the Casadas born on the branch (1915) – found their way full circle in 2014 to where bloodroots bloom just above the home.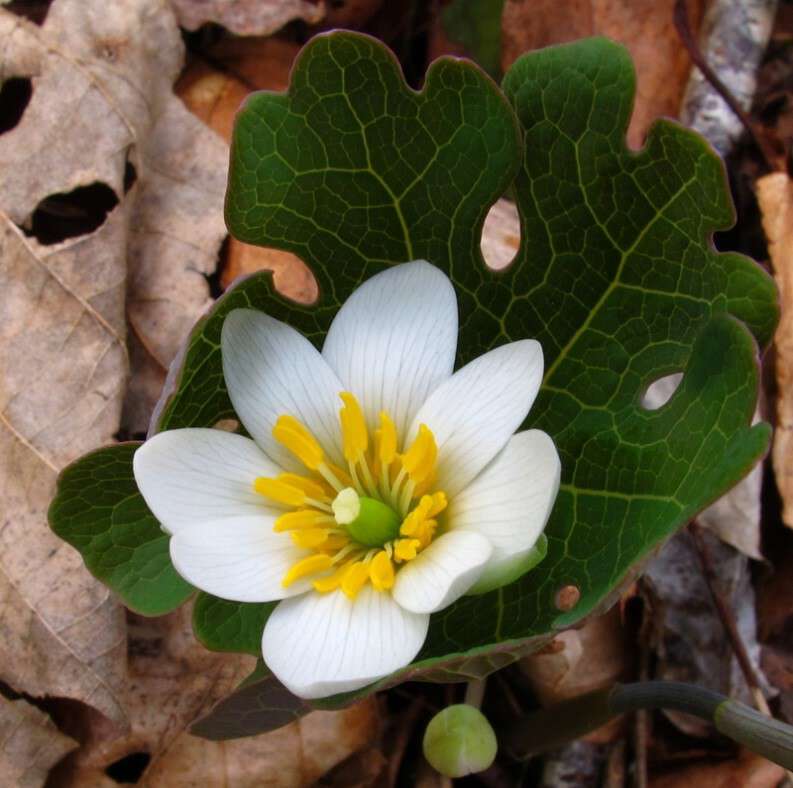 Bloodroot
– An aside here: Emma and Jessie were the only Casadas born on Juneywhank, and were also the first and only members of that generation to attend college.  They graduated from Maryville College over in Tennessee, and both taught school – Jessie in Chicago and Emma in Bryson City.  I know of at least one person who reads Tipper's blog who took biology under Aunt Emma.  Grandma and Grandpa had basically no financial resources, so the educational cost was borne by a combination of the girls working and funds contributed by older siblings.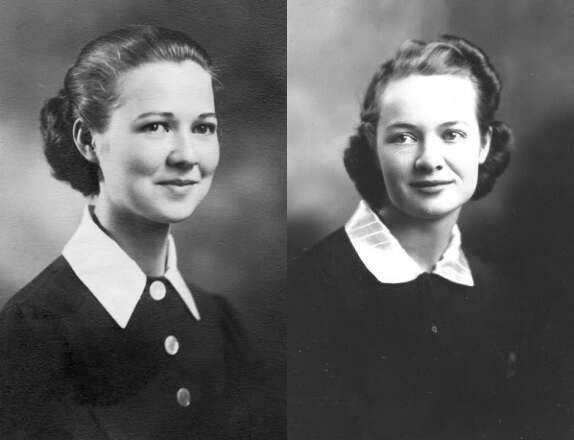 Jessie and Emma Casada, as students at Maryville College
– Grandpa Joe and boys gathered acid wood, apples, and chestnuts and carried them to town for cash money.
– The brothers and some other boys dammed up Juneywhank's waters into a deep enough hole to completely submerge themselves.  That depth was found needful when the water backed up into a yellow jacket nest.
– The two brothers were riding double on horseback when the elder, riding in front, ducked under a low-hanging limb, then hooted when it swept his younger brother off the back.  The hooting halted abruptly when his Papa took holt of him.
– A dog named ol' Pratt survived a snake bite by lying in Juneywhank's cooling, healing waters, then turned into what my father reckoned was the snake-killingest dog that ever was.
– Daddy's strongest Juneywhank memory was a bitter one involving a long asked-for and wished-for pocket knife.  One Christmas morning, when he was around eight years old, he jumped in jubilation upon spotting a pocket knife alongside the orchard apple and store-bought orange left by Santa Claus.  But the joy quickly dissipated into most desperate dismay when he realized that it wasn't a real knife – just a piece of hard candy shaped like a pocket knife.  Each and every one of his children and grandchildren now owns a knife, courtesy of that once badly-disappointed boy – a tale of the bitter turned to sweet.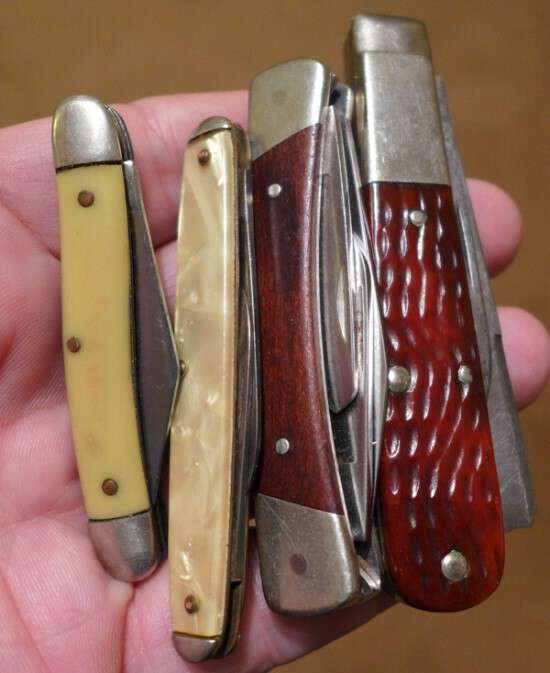 A few of Commodore's passed-on knives
– His oldest grandson, Joshua, who plans on going home up Juneywhank for Christmas, wrote a tribute to his grandfather on the day he died; it involved knives, know-how on several levels, and a bit of the dry humor which he'd come by honest by way of his Papa.  Fittingly, Joshua's first trip up Juneywhank was when he was also around eight years old in the company of his father and grandfather.  It would've been about seven decades since the Christmas candy knife.
Home for Christmas
We're looking forward to being home for Christmas – to think on days of Christmases past, to honor our forebears; to wonder, wander, praise and ponder the Babe for whom the day is named – the One who wasn't at His home on high on that very first Christmas.
To all the Blind Pig family and friends – here are wishes from all the Casadas for a joyous Christmas holy day and holidays, full of blessings, good cheer, and awe.
And speaking for Daddy, I hope you find a real pocket knife alongside your orange and apple.
| | |
| --- | --- |
| | |
| Commodore Casada drinking coffee from a thermos cup at age 75.  At that age he could outwork and outwalk a reasonably fit fellow more than four decades his junior (for example, the fellow on his right). | Commodore Casada in his 101st year of living in these mountains, and the author who by this time might have finally been able to outwork and outwalk his old man. |
————–
I hope you enjoyed Don's Christmas post as much as I did!
Tipper