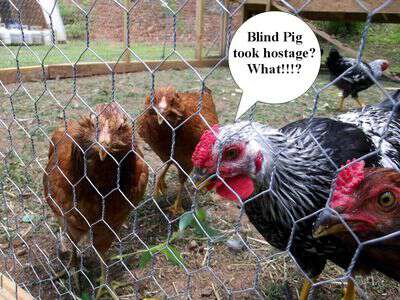 Did you hear? The Blind Pig was taken hostage! Well sorta of…let me explain. More than a few of you have noticed there has been no Blind Pig sitting in your email for the last few days. I wrote the posts-they just never made it to your email account or to the blog itself.
Typepad-the blogging platform I use to write the Blind Pig & the Acorn has been under a DDos attack for the last several days. Lucky for me-it only started causing problems on the Blind Pig Sunday morning. Other Typepad folks have been suffering for 5 days or longer.
In a nutshell the DDos attack means: when your computer tries to access the Blind Pig it receive a message saying nobody's home.
Throughout the service outage, the folks at Typepad have been outstanding. They've kept their customers updated through Twitter and Facebook in a kindly manner-even though some of my fellow Typepad users haven't been quite as nice.
Knowing that Typepad was working hard to stave off the attack I googled around to see if I could learn more about DDos.
Techcrunch.com published an article about Typepad and it's DDos attack on April 21. According to the article in a DDos attack someone takes your servers (where websites are stored) hostage and then refuses to release them until a ransom has been paid.
A criminal bombarded Typepad with an unreal amount of traffic/website visitors. Unreal because it was 'fake' and unreal because Typepad would never receive that amount of traffic all at once. The exponential amount of traffic knocked Typepad's servers off line. The criminal continued to send the traffic-but also contacted Typepad asking for a ransom: "Hey Typepad if you'll give me some money I'll stop the traffic so that you can have your servers back."
Typepad said "NO WAY!" Well I don't know if that's what they said for sure. But the article on Techcrunch.com stated that Typepad refused to pay the ransom and were instead working hard to fix the DDos attack themselves AND working closely with the authorities.
The Techcrunch.com article said other high profile sites have been targeted in recent weeks-Meetup, Basecamp, Vimeo, and Bit.ly. I believe Typepad will be safer from attacks in the future-as they have seen firsthand what it's like to be the target of one-however, every website on the entire internet is vulnerable to a DDos attack.
None of the actual data Typepad stores was compromised in any way shape or form. The attack only blocked users from accessing Typepad sites.
Hoping things will be back to normal here on the Blind Pig! But now that you've heard the attack news-you'll know the issue continues if I'm not in your inbox in the coming days.
Tipper