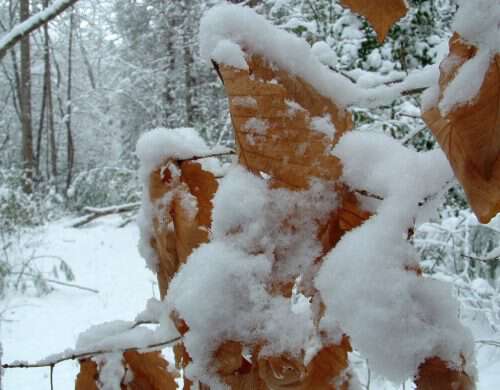 It was Thursday before any us decided to hike out to get the mail-and it wasn't me who decided to go. But once the snowy trip had been made-I gladly received the bounty of summer that was found in the mailbox-my garden seeds.
The kind folks over at Hometown Seeds are sponsoring the Blind Pig garden again this year-in addition to round 3 of the Blind Pig & The Acorn Sign Test. If you've never heard of the seed company-let me tell you a little about them.
Hometown Seeds specializes in providing quality seeds to home gardeners. They offer vegetable, flower and herb seeds-and guarantee their seeds to be top notch quality, true to type, shipped right, and to be great producers. Hometown Seeds does not sell GMO-genetically engineered seeds-to their customers as they do not believe enough research has been done on the subject.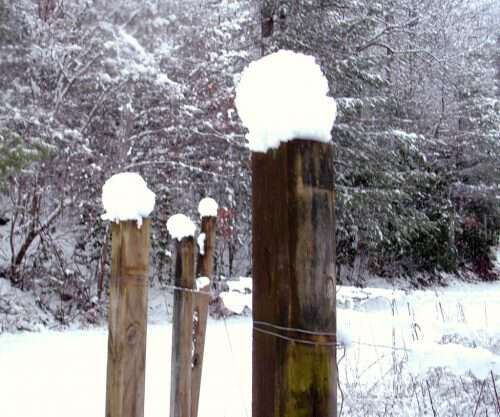 So even though my garden-and Pap's big garden are covered with snow-and Mother Nature has even adorned the bean poles with massive snow balls-I'm thinking of warm soft dirt-of sunshine on the back of my neck, of small green heads poking through the earth to reach upward. And of course I'm thinking about planting by the signs.
Last summer was the first year I managed to plant my entire garden by the zodiac signs-and it was the absolute best producing garden I've ever had. For the last 2 years I've asked Blind Pig readers to play along with a planting by the signs test. Due to the generosity of Hometown Seeds-I'll once again be asking readers to plant along with me this year.
In addition to the sign test, I'm excited about:
Finding out if my heirloom tomato seeds stay true to form
Trying Hamson Tomatoes for the first time
Trying once again to grow watermelons-so far the only one I managed to grow-was a volunteer, this year I hope to try a method one of Pap's good friends used
I'm crazy about radishes, I've never even seen a white one but this year I'm going to try to grow them-Hailstone Radishes
I was thoroughly pleased with the seed quality and customer service of Hometown Seeds last year. If you haven't picked up your seeds for the coming summer-jump over to Hometown Seeds and look around-I think you'll be glad you did. I found their Survival Seeds Packet especially interesting. And if you let Hometown Seeds know you're a Blind Pig & The Acorn reader-they'll give you 10% off your entire order. Just use the word acorn for the coupon code as you're checking out and the 10% discount will be applied. Even better you can use the code multiple times if you need too-and the discount lasts through March 2011.
Hope you'll leave me a comment and tell me what your gardening plans are for 2011.
Tipper