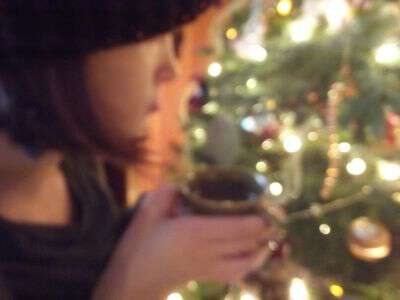 We put up our Christmas trees over the weekend: a big one in the living room-a small one in the girls room and 3 smaller ones in the kitchen-oh and Granny's old ceramic one in the living room as well.
I convinced the girls to put one of my small artificial trees in their bedroom this year-so there wouldn't be such a mess of needles. I should have known I couldn't stop Chitter from going out to look for the perfect tree from the red clay bank behind our house.
It was just about dark when we finished with the big tree. I was hollering for her to come back and help me clean up the mess when The Deer Hunter said she was outside. I said what in the world for-he said I think she's hunting a tree. I went out and yelled for her she said she just wanted to get one little sweet tree for the bench in the kitchen.
Almost an hour later-armed with flashlights-her and her Daddy finally found one that would work.
Once the trees were up, the girls started asking for Russian Tea.
I had never even heard of Russian Tea before I met The Deer Hunter-much less tasted it. The first Russian Tea I ever drank was made by Miss Cindy-and her recipe is still my favorite.
You need:
2 quarts of water
4 tea bags (2 family size)
half of a large can of pineapple juice (I freeze the other half for my next batch of tea)
1 small can frozen orange juice 12 oz.
1 teaspoon ground cloves
1/2 stick of cinnamon (or 2 teaspoon ground cinnamon)
2 tablespoons of lemon juice
2 cups of sugar or a little less if you don't like it so sweet
Use about a quart of the water to brew the tea-then add all the rest of the ingredients and heat till the sugar is dissolved. If you don't drink it all in one day-it stores really well in the frig-and can be warmed up a cup at a time in the microwave.
Tipper