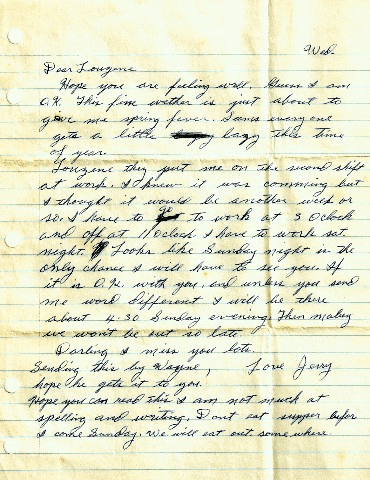 Dear Louzine
Hope you are feeling well. Guess I am o.k. This fine wether is just about to give me spring fever. Seems every one gets a little lazy this time of year.
Louzine they put me on the second shift at work. I knew it was comming but I thought it would be another week or so. I have to go to work at 3 oclock and off at 11 oclock. I have to work sat. night. Looks like Sunday night is the only chance I will have to see you. If it is o.k. with you, and unless you send me word different I will be there about 4:30 Sunday evening. Then maybe we won't be out so late.
Darling I miss you lots. Sending this by Wayne, hope he gets it to you. Hope you can read this I am not much at spelling and writing. Don't eat supper before I come Sunday. We will eat out somewhere.
Love Jerry
When I read this old love letter Pap wrote to Granny it makes me feel like this…
Hope you enjoyed the old love letter-and Paul's version of What A Wonderful World for this week's Pickin' & Grinnin' In The Kitchen Spot.
Happy Valentines Day!!
Tipper