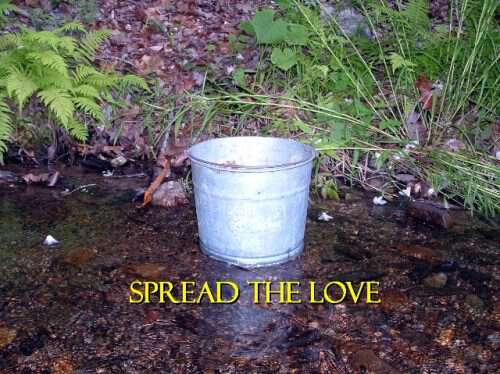 Time to Spread the Love-I'd like to thank each one of you for being part of the Blind Pig. During the month of June you went along with me as I suckered tomatoes, bemoaned cuts in education funding, tried to figure out why I feel safer in the mountains, sat under the weeping willow tree and bragged about my squash.
Granny Sue, Shirley Bullock,  Sandy Carlson, Rick M., Cathy, wkf, Janet, Mary's Writing Nook, Renna, Paula, Kathleen, Amy, Carolyn A., Just Jackie, The Texican, Julie at Elisharose, Miss Cindy, TennZen, Brenda Kay Ledford, Sheila Bergeron, Osagebluff Quilter, Dee from Tennessee, Marlene, Kim Campbell, Terry, Matthew Burns, GrannyPam, Susan, Teresa, Vera, Warren, Threecollie, Helen G., Lanny, Stacey, The Fishing Guy, Kristi, Mary Traveling Hammer, Petra Michelle, SolsticeDreamer, Lisa, David Templeton, Jennifer in OR, Noble Pig, Teresa Atkinson, Twosquaremeals, Jenny-Jenny, Greta Koehl, Farmchick Paula, Nancy M., Julie Curtis, Annie, Beth W, Glen
da, Linda, Sallie Covolo, Joan J, Leslie, Nancy Simpson, Fencepost, Rick's Whitetail Woods, Martina, Shawnee, Patty H, Christina Bumble Bee Bags, Lisa Life With 4, Gingerjar, CDGardens, Georgie, Shirley, Trisha Too, Grammy, Brenda S 'Okie in Colorado, Keary Naughton, Debbie, Valarie, Lori Thornton, Dinah, Brit, Frances, Mary Life In A Cordwood Cabin, Kiana, Dedra, Mo, Lori, Helen Baldwin, graybird, Virgina Cornue, Yoly from Miami Fl, Finnishwahine, Yolanda, Holly, My Carolina Kitchen, Louise, E, Connie, Father's Day 2009, Buzz, Kelli, Jay Henderson, GA FarmWoman, TAS Mania, Patty, James, EBet, The Hunter's Wife, Rachel, Egghead, Meredith Teagarden, Kate, Far Side Of Fifty, Sandra, Mary, and Caution Flag.
I've always assumed everyone knew why I link back to folks who comment during the month-until someone asked me-"Why do you go to all that trouble of linking to each person who comments?" So I thought I would share the answer with you in case anyone else was wondering. The answer-each time someone links to your blog/website-it raises your Google ranking-which makes it easier for folks to find your site-and hopefully leads to an increase in traffic. As a way of saying thank you for supporting the Blind Pig & The Acorn-I link to your sites to show support for them too.
The prize for June-is the world renown book-Our Southern Highlanders by Horace Kephart. I love reading about the history of Appalachia and it's great people-but I especially enjoy Kephart's book as he lived less than a 100 miles from me when he wrote it.
The Spread the Love winner for June is…David Templeton.
Hope you all keep visiting the Blind Pig-and please click on one of those commenters-and go for a visit- I know you'll be glad you did.
Tipper