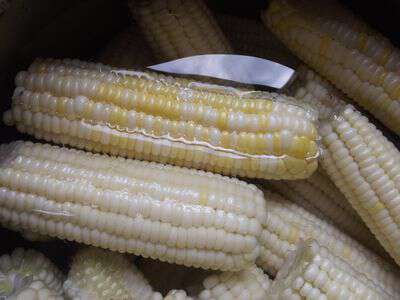 Our second planting of corn is just starting to come in. This year we made a real effort to plant at least 2 plantings of most vegetables. Mid summer when we were plowing and weeding the 2nd planting of corn we were all wishing we'd stuck to our usual garden technique of planting it all at one time! But the beautiful corn sitting in my sink over the weekend convinced us-staggered planting is something we should do every year-especially when it comes to corn.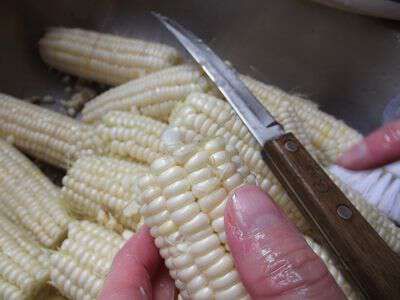 Earlier in the summer we made of a run of pickled beans and corn in a crock, but since we had so much corn over the weekend I decided to make a few jars of pickled corn. Back in 2009 when I shared Papaw Tony's recipe for pickled beans and corn William Murphy left this comment:
I remember well my grannies pickled beans and corn. For those that don't have a large crock, here is a simple ball jar recipe. Boil corn for five minutes. Drop in tub of ice water for five minutes. Cut off cob and pack in pint Ball or Mason jars. I like the wide mouth jars for this. Add one teaspoon of pickling salt per pint right on top of the corn. (use two teaspoons of salt if you are using some of the newer hybrid sweet varieties of corn). Pour hot water into each jar of corn until just about to run over the top of the jar. All corn must be covered with water. Add canning ring and lid but just screw down loosely snug. Place under kitchen counter for 9-14 days on top of a cloth towel. The jars will work off and emit some water. At the end of the 9-14 day period, take lids off jars and wipe down top of jars and lids to remove any residues that would prevent sealing. Reapply lids hand tight and place in water bath canner for 15-20 minutes. Let cool and lids should seal. Redo any jars whose lids do not seal. This method works very well for corn, beans, Okra, green tomatoes, or a combination of the above.
Ever since then I've wanted to try his method-it's very similar to how Granny makes kraut.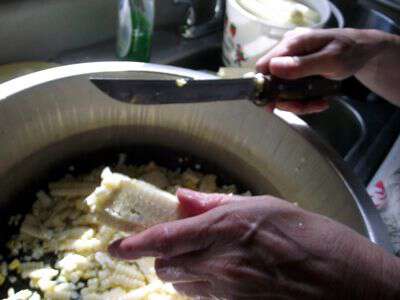 I cooked the corn for 3 minutes then let it cool in cold water and sliced it off the cob.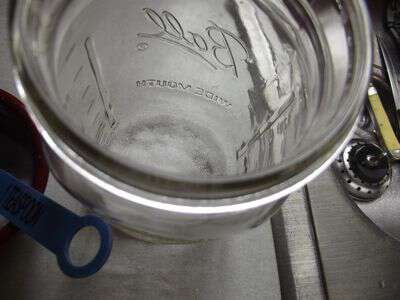 I sterilized all of my jars and added 2 teaspoons of pickling salt to them.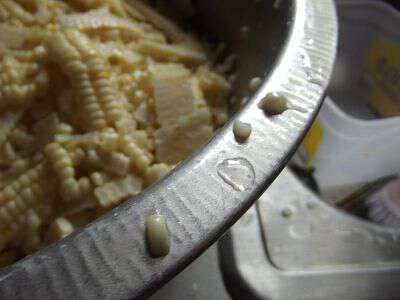 I filled the jars with corn-and poured warm water over the corn leaving 1/4 inch head space.
Finally-I added the lids and set the jars on a tray. So will it be any good? I'll let you know in about 14 days! *UPDATE: The corn was wonderful!!!
Have you or any of your family ever made pickled corn like this? Or did you/they use a crock?
Tipper