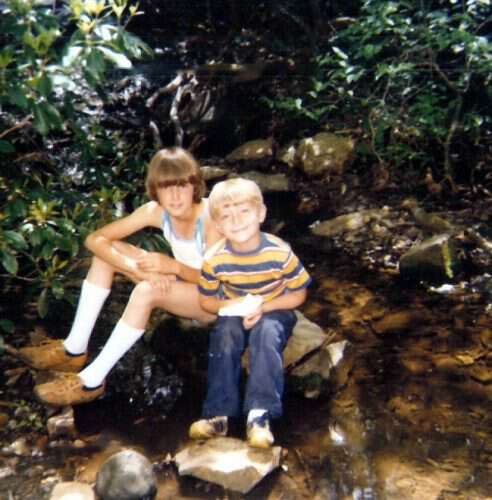 Paul and me on one of our treasure hunting trips up the creek. I don't know which is worse-my knee socks or my Dorothy Hamel haircut-but isn't Paul a cutie pie.
Over the years I've collected treasure from the area surrounding my house. I only wish I had written down exactly where I found each one. I've found plate pieces in the creek that runs through our holler or along the trails and road beds that criss-cross this area.
I have buttons that came from old house places-one from an old house Pap lived in when he was about 10 years old. It was where he lived when his only sister was just a baby. One day Pap was left in charge of watching her while his mother worked in the fields-only he didn't do a good job- she ate some rocks which resulted in Pap getting a good whipping.
Many of my treasures came by way of Paul. He is an avid arrowhead hunter and always brings me any buttons or glass bottles he finds.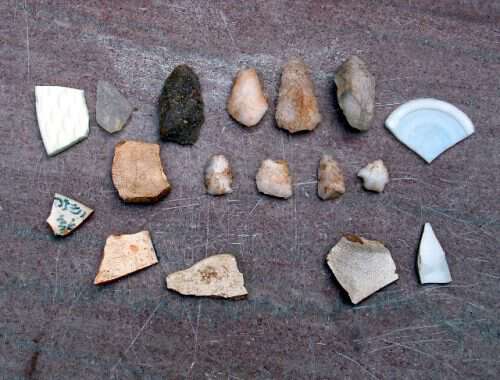 These are a few arrowheads The Deer Hunter or I have found over the years, along with more plate and canning lid pieces. I just love to think about the Indian who made the arrowheads and what he was shooting at when he lost them.
The pieces of plate and canning lids-I can just see the little ladies who used them. What did they can? What did they serve their family to eat? I don't know-but I do know those pieces were used with love for the very survival of their families. That line of thinking always brings me back to wondering what happened to the folks in the end-where did they go and why did so many fragments of their lives end up in the sandy creek bed?
Chatter and Chitter are obsessed with finding bits of old treasure-just like their Momma.
Some of their latest finds-a piece of barbwire, glass bits, plates shards and an old bottle.
Over the years I've collected other bits and pieces, I wish I knew why I kept them. A few I remember-the piece of pink beaded necklace made by Granny, a pink butterfly off one of my Mamaw's dresses (she died when I was in 5th grade), the letters from my baby bracelet, an old pin from Fontana Dam, and 2 nickels cut by Steve, my oldest brother.
All my treasures are worthless in a monetary sense-but are priceless to me. Bits and pieces that make up my life, make up who I am.
What treasures have you found on your journey?
Tipper