Today's guest post was written by David Templeton.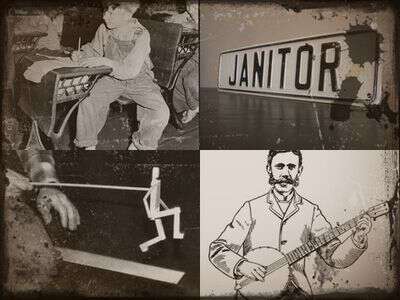 We went to a small, country school; four rooms, one with a small stage. When the fall festival was held, the room with the stage was cleared so that folks could set up food booths, get in a cake walk, or sit and enjoy singing or musical skits performed on the stage.
He was an almost hidden man, silent, always working. He was a kind man, gentle when he happened to be called on to help a child or teacher. He was the janitor, and he came to work every day, worked hard and left tired.
We seldom know the gifts people have; we see their perfunctory lives and know little beyond that about them.
Buck Byington was a skinny little man with dark black hair and a chiseled face; always in fresh over'halls and a clean blue work shirt.
That's all we knew of him.
But we had this one fall festival there at Ross' Campground School and while we cakewalked or ran around chasing each other or enjoyed the donated food, we paid little attention to what was happening up on the stage. We began to hear banjo music, not uncommon music in those hills, but this music was soon punctuated with laughter and glee. He played the old clawhammer style banjo music.
Mr. Byington had strung twine from his banjo strings, across the stage to a post and in the middle he had this little effigy, oh maybe a foot tall, of a loose-jointed, wooden figure, maybe like a marionette. And as he played, the figure would be moved by the string movement and seem to dance to the music; and dance very well to the music.
I think they're called jig dolls. I haven't seen a real one since. Maybe they're common.
His banjo playing was superb; as good as any musician on the morning biscuit hours on the radio. His playing alone made the night one of fun and enjoyment but the dancing figure made his a top-notch show.
All of this from a man who never talked and we never knew, very much. And another homemade toy from the mountains.
———————–
I hope you enjoyed David's guest post as much as I did! How I wish I could have seen the Janitor's one man act.
David is so right-lots of times we're surrounded by the most talented people and never even know it.
Tipper