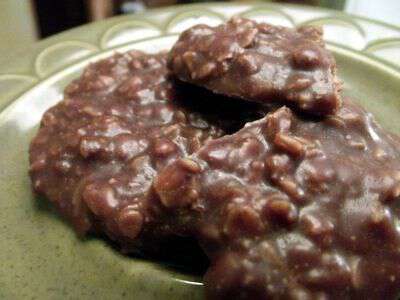 Did you eat in the lunchroom when you were in school? As far as I can remember, Paul, Steve, and me always ate in the lunchroom.
I pretty much packed the girls' lunches the entire time they were in school.
For whatever reason, the lunches from my elementary school, Martins Creek, stand out in my mind more than my high school years. Maybe its because I spent more time there (8 years)or maybe its because the school was so small I knew all the lunch ladies on a first name basis, and most of them knew me well enough to remember when I was born.
Of course I liked the pizza they served. Remember it came in big squares? Maybe it still does.
I also like their mashed potatoes. And I never got over my infatuation with their cartons of milk. On really good days there might even be chocolate milk!
I did not like the meal of soup and a peanut-butter sandwich. I never understood how anyone could eat peanut butter without the jelly!
I make one lunchroom favorite myself: chocolate oatmeal cookies. Some folks call them no bake cookies or cow patties. I suppose the lunchroom served them because most kids liked sweets and the oatmeal made them semi healthy.
There's lots of different recipes for the cookies. When The Deer Hunter and I were first married I found the recipe variation I like the best in a community cookbook that students from Martins Creek School created and sold. Coincidentally, the recipe was submitted by a girl who was a grade behind me in elementary school. I guess she never got over her love for lunchroom cookies either.
Chocolate Oatmeal Cookies
1 stick of butter
1/2 cup milk
1/3 cup cocoa
2 cups sugar
1/2 cup peanut butter
3 cups one minute oats (I use a little less than 3 cups because I like mine extra chocolaty and moist)
1 teaspoon vanilla
Combine: butter, milk, cocoa, and sugar in a large sauce pan over medium heat. Heat till boiling-boil one minute.
Remove from heat-stir in vanilla and peanut butter.
Once the peanut butter has melted-stir in oatmeal till thoroughly mixed. Drop by spoonfuls onto wax paper or aluminum foil and allow to cool.
The recipe is so easy to make. The cookies are perfect for a quick fix for a sweet tooth and fast enough to make for those last minute functions-you know the ones your daughters forget to tell you about until an hour before they start?
So did you eat in the lunchroom? If so did they ever serve chocolate no bake oatmeal cookies?
Tipper
This post was originally published here on the Blind Pig in November of 2011.