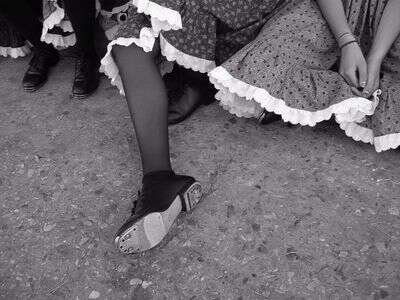 On a dreary wet Monday afternoon the John C. Campbell Folk School Cloggers had their last practice before fall festival. The rain came down so hard-beating like a drum on the metal roof-that you couldn't even hear the music at times.
I thought I'd share my favorite routine with you-I'm sure you'll notice-but just so you know-the 2 girls in the video are Chatter and Chitter. (*Before you watch the video you need to stop the music player-the music controls are along the top of this page on the far left side-just above the Blind Pig logo. Click the center round button to stop the player)
You might have noticed a bobble here and there-but I'm betting they have it all worked out by this weekend. If you want to come see for yourself-The JCCFS Cloggers will perform on the festival barn stage at 12:00 p.m. both days of the festival (October 6 & 7). If you live close enough- don't forget to come out and watch the Blind Pig Gang this Friday night as we kick off the festivities with a concert starting at 7:00 p.m.
Now tell the truth-could you ever move your feet that fast? I know I couldn't!
Tipper