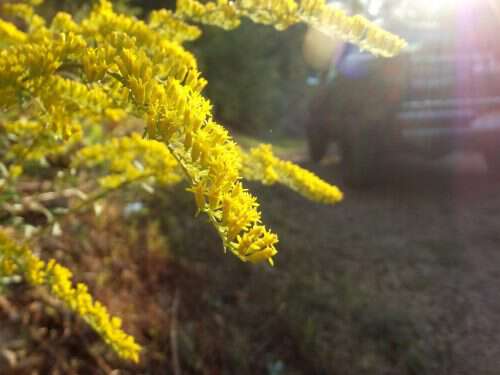 Is Goldenrod blooming around your house? It's yellow color forms a sort of calling card as you drive along my driveway. I've always heard Goldenrod is an allergy sufferer's worst nightmare. That sums up what I knew about the plant-it's yellow and people say it gives them grief.
After googling around I discovered Goldenrod is KY's state flower and that there are several different varieties of the plant. And while most of the folks in my area consider Goldenrod a weed-folks in England cultivate the plant for their flower gardens.
But the best thing I discovered by googling, was an old legend. Sharran Brown, a native of KY shared the story her Granny Ninna told her about Goldenrod:
"Two little girls were very close friends, one was golden blond and the other was dark haired with beautiful blue eyes. They were afraid that when they grew up they might be parted from each other, so they didn't want to grow up. To solve their problem, the two little girls set out one day to visit the good witch who lived across the field far away. They came to the good witch after a long day of travel and told her of their wish to always be together. The little girls were never seen again, but whenever you see the golden yellow bloom of the goldenrod you will be sure to find the sweet blue aster always beside her."
After reading the old legend, I ran out back to see if there were blue asters by my Goldenrod and just like Granny Ninna said, there was.
Tipper